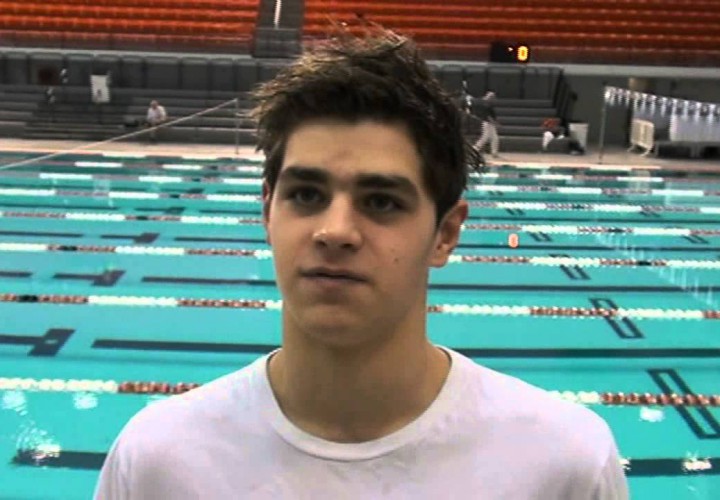 CLEARWATER, Florida, April 18. MICHAEL Andrew turned 15 years old today, but was still able to set a national age group record in the 13-14 age group at the NASA Showcase Classic tonight.
Meet rules set a swimmer's age for the meet as their age on the first day, which meant Andrew was still 14 years old, and was able to knock nearly a second off his 100 fly record with a 46.95, splitting 21.58 at the 50. His fastest swim before today was a 47.23 from last month's NASA Junior Championship.
The time will count as the 13-14 record, but it also beats the mark in the 15-16 age group. Alex Valente swam a 46.99 at a sectional meet last January, and will now wait to see when Andrew steps up for his next short course yards race.
Notably, Andrew scratched from the final of the 200 breaststroke after a 2:01.72 in prelims. That means Reece Whitley's record of 1:58.39 will stand as the only non-distance freestyle record in the 13-14 age group that Andrew was not able to surpass.
Vinny Marciano took a sledgehammer to the 11-12 national age group record in the 100-yard backstroke tonight, posting a 51.40 in the event.
Tonight's performance marks the fourth time the 12-year-old from Morris County Swim Club has set the 200 back record in 2014. He set it twice in one day in January , posting times of 53.43 and 53.26. In March, he took the record lower with a 52.47, a time that did not last long. Destin Lasco swam a 52.32 the following day.
Lasco has now taken the record to another stratosphere. He split 24.65 at the 50-yard mark tonight before a 26.75 in the final 50.
Marciano returned to put up a 53.33 in the 100 fly final, as well as a 48.34 in the 100 free.