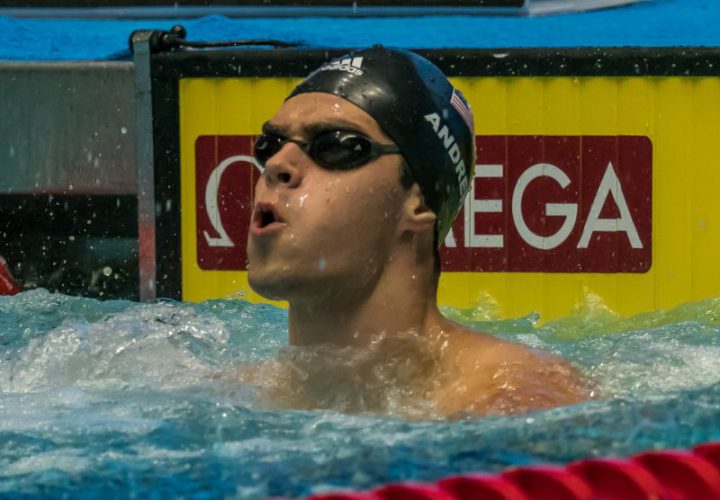 Photo Courtesy: Peter H. Bick
Editorial content for the 2018 TYR Pro Swim Series Atlanta is sponsored by SwimOutlet.com. Visit SwimOutlet.com for more information on our sponsor. For full Swimming World coverage, check out our event coverage page.
Men's 50 Free
18-year old Michael Andrew had all jets firing during finals of the men's 50 free, splashing past sprinting stalwart Nathan Adrian to claim the gold. Andrew posted a 21.93 for gold; a time that doubles as the second fastest time in the world for 2018, behind Great Britain's Benjamin Proud and his time of 21.52.
Adrian finished second overall with a time of 22.09, a shy .01 seconds off his time of 22.08 from the Austin stop of the TYR Pro Swim Series.
Vladimir Morozov, representing Trojan Swim Club, claimed a close third with a time of 22.11, while Andrii Govorov took fourth with a 22.34.
Brazil's Bruno Fratus took fifth in finals with a time of 22.51, followed by Marcelo Chierighini's time of 22.69.
Argentina's Guido Buscaglia and Club Aquatique's Mehdi Ayoubi were seventh and eighth with times of 22.82 and 23.14 respectively.
                            === A - Final ===                            
 
  1 Michael Andrew   18 Race Pace Club      22.16      21.93   866  
         r:+0.71                       
  2 Nathan Adrian    29 California Aquat    22.46      22.09   848  
         r:+0.68                       
  3 Vladimir Morozo  25 Trojan Swim Club    22.74      22.11   845  
         r:+0.61                       
  4 Andrii Govorov   25 Arilson Silva       22.65      22.34   819  
         r:+0.65                       
  5 Bruno Fratus     28 Coral Springs Sw    22.50      22.51   801  
         r:+0.69                       
  6 Marcelo Chierig  27 Tiger Elite Raci    22.60      22.69   782  
         r:+0.65                       
  7 Guido Buscaglia  21 Argentina           22.69      22.82   769  
         r:+0.68                       
  8 Mehdi Ayoubi     19 Club Aquatique      22.99      23.14   737  
         r:+0.66