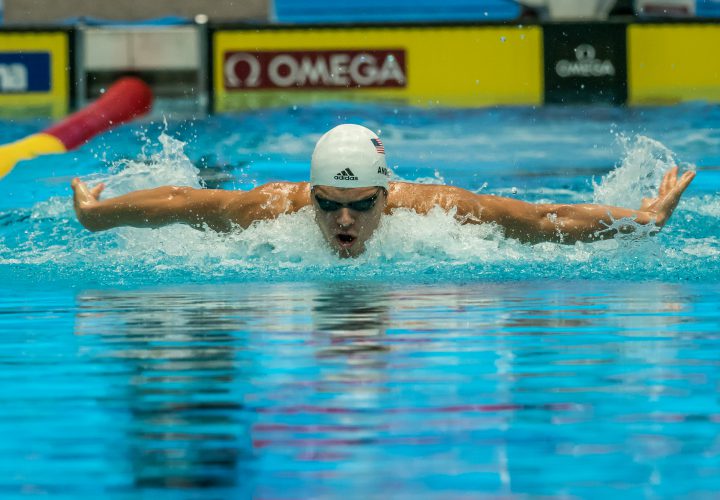 Photo Courtesy: Peter H. Bick
Speedo Sectional Series is proudly sponsored by Speedo. Visit SpeedoUsa.com for more information on our sponsor.
Michael Andrew and 14-year-old Kate McCarville dominated the podium on the second night of Speedo Sectionals in Columbia, MO. Andrew enjoyed back-to-back victories, best times, and speedy swims for his age group in the 100 breast and 100 fly. Meanwhile, McCarville defended her title in the 400 IM and posted nationally-ranked marks in both the IM as well as the 100 fly.
Women's 200 Yard Free
Martina Thomas of the Razorback Aquatic Club Aquahawgs dominated the women's 200 free in 1:46.96, nearly two seconds ahead of the rest of the field.
Lincoln Select Swimming's Alana Palmer posted an evenly paced 1:48.41 for silver, and the Kansas City Blazers' Katherine Sullivan came away with bronze in 1:49.74.
Men's 200 Yard Free
The men's race proved tighter, as Kevin Callan of Trident Aquatic Club and Michael Chadwick, representing the University of Missouri, fought to the finish. Callan led the charge and ultimately hit the touchpad first in 1:33.52, but Chadwick put up a strong second hundred to coast to silver in 1:33.84.
Kallan's mark elevates his swim to the eighth-fastest 200 of all time in his age group.
Meanwhile, Jack Dolan of Rockwood Swim Club dropped over a second from his seed time to collect the bronze in 1:36.34.
Women's 100 Yard Breast
The women's 100 breast was also hotly contested, as American Energy Swim Club's Hanna Newby and Columbia Swim Club's Nicole Williams traded the lead back and forth.Williams turned first at the 50 mark, in 28.87, followed by Katherine Steward of the Splash Club in 29.07.
Newby touched third in 29.17 but picked up the pace to take the gold in the end. Williams settled for silver in 1:01.68, and Steward nabbed bronze in 1:02.29.
Men's 100 Yard Breast
Michael Andrew, fresh off of his thrilling sprint victory last weekend in Atlanta, cruised to gold and the third-fastest time of all time for his age group–51.42–in the 100 breast.
The real race was for second place, as Nick Staver and Ryan Geheb, both swimming unattached, both landed in the 54-second range. Staver laid claim to silver in 54.26, while Geheb owned bronze in 54.72.
Women's 100 Yard Fly
The women's race proved a duel to the end as Karisa Franz of Parkway Swim Club and Caroline Theil of Greater Nebraska Swim Team hit the wall within four hundredths of each other after the first 50 yards. Theil turned first but Franz made up ground with a strong back half to garner gold in 54.16.
Theil was not far behind in 54.39, while 14-year-old Kate McCarville, representing Springfield Aquatics, posted a 54.64, which ties her for the 65th-fastest time of all time for her age group.
Men's 100 Yard Fly
Michael Andrew barely came up for air after the 100 breast before launching into his 100 fly. In spite of the short turn-around, Andrew shaved off hundredths from his seed time to go 46.12 and earn the 11th-fastest rank of all time for his age group in the event.
Andrew was not without competition, however. Rockwood Swim Club's Jack Dolan, also competing in his second event of the evening, stopped the clock in 46.81.
Behind Andrew and Dolan, Sooner Swim Club's Aiden Hayes, 14, was just off of his best mark. Hayes dropped an impressive 48.73, reaffirming his status as one of only four 13- and 14-year-olds in the USA to ever break the 49-second barrier.
Women's 400 Yard IM
Meanwhile, Kate McCarville was back for action in the 400 IM. As returning champion in the event, McCarville dropped significant speed from her mark from last year (4:21.28) to earn her second consecutive gold in 4:15.77. The swim is also the 29th-fastest time of all time in McCarville's age group.
Luciana Thomas, representing Razorback Aquatic Club Aquahawgs, also swam a strong race in 4:16.62. Hanna Newby, also competing in her second event of the evening, took the bronze in 4:20.36.
Men's 400 Yard IM
Dane Florea of Columbia Swim Club dominated the men's 400 IM, posting the winning time of 3:50.38.
Rec Plex Sharks' Adam Grimm earned silver by a significant margin, in 3:56.76, while Parkway Swim Club claimed bronze in 3:58.48.
Women's 50 Yard Back
The women's evening of competition wrapped up with a thrilling final race, as 14-year-old Abigail Karl of Empire KC Swim Club just touched out Lincoln Select's Alana Palmer. Karl landed one-hundredth ahead of Palmer, in 25.57.
After Palmer's 25.58, the next top swimmer was American Energy's Dewi Blose, who coasted to a 25.87.
Men's 50 Yard Back
The men's race proved no less exciting. Colin Lafave of Greater Omaha Aquatics charged to first in 22.84 and was closely followed by Barclay Dale of Parkway Swim Club (22.90).
Third went to Zane Sutton, representing Northwest Arkansas Aquatics, in 23.21.
The action will continue in Columbia tomorrow as prelims begin at 9 am.
Live results are available on MeetMobile – 2018 Region VIII Speedo Spring Sectionals.