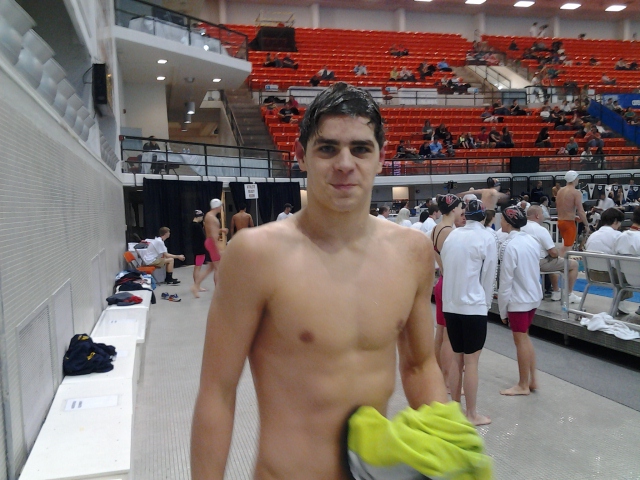 JENKS, Oklahoma, March 9. FOURTEEN-year-old Michael Andrew of Indie Swimming broke his third National Age Group record of the weekend tonight at the Speedo Champions Series Central Section Region VIII meet in Jenks, Okla., taking down the 13-14 boys 200 back record.
Andrew posted a winning time of 1:45.14 in finals, erasing Benjamin Ho's 2013 record of 1:45.73 from the books. Andrew now holds nine of the 14 National Age Group records for 13-14 boys in yards.
Flyers Aquatic Swim Team's Nicholas Alexander took second behind Andrew in 1:47.65, while Kansas City Blazer Benjamin Scheffer wound up third in 1:49.04.
The women's and men's 1650 freestyles kicked off the final evening of racing. Columbia Swim Club's Elizabeth Walker broke her own pool record en route to the win, touching in 16:30.91. Razorback Aquatics' Taylor Pike (16:41.77) and Flyers Aquatic Swim Team's Genevieve Pfeifer (16:41.99) also snuck under the previous pool record of 16:46.55. On the men's side, Minki Kang of the Arkansas Dolphins earned his third win of the meet with a 15:27.31. Ryan Baker of the Rec Plex Sharks was nearly 20 seconds behind in 15:46.85.
Columbia Swim Club's Chelsea Tatlow, who already has a few top-three finishes and a win in the 200 IM at this meet, added another victory with a dominating performance in the women's 200 back. Tatlow won by about three and a half seconds over second-place finisher and 100 back champ Haley Hynes of the Kansas City Blazers, 1:56.27 to 1:59.75. Her time broke the pool (1:58.72) and Region 8 (1:57.18) records in the event. Olivia Nanneman, also from Columbia, just missed breaking two minutes with a 2:00.10 for third.
In the 100 free, Lawrence Aquahawk Courtney Caldwell picked up a half-second victory with a time of 50.16, ahead of SwimTulsa's Breonna Barker (50.66) and Rockwood Swim Club's Jordan Stout (51.26). In the men's 100 free, Jacob Molacek posted a commanding victory in 43.92, almost a second and a half faster than his prelim swim but just off his best time of 43.86. He broke both the pool (44.59) and Region 8 (44.37) records in the process. Michael Andrew, who was shooting for another National Age Group record, came up just short with a 44.74 for second. Andrew already holds the 13-14 NAG in that event at 44.16. Sean Tate of Swim Omaha rounded out the top three finishers in 44.95.
Columbia Swim Club earned its second straight win on the women's side as Elizabeth Walker hit the wall first in a pool record and the only sub-2:00 200 fly, a 1:59.60. Walker's teammate, Chelsea Tatlow, continued her strong meet with a second place finish in 2:00.79. Kansas City Blazers' Rilye Fries came in third with a 2:01.50. Meanwhile, Sooner Swim Club's Justin Wu, winner of the 200 IM last night, dominated the men's 200 fly with a 1:47.85. That trimmed half a second off his personal best and more than four seconds off his prelim time. Ethan Bresette of the Kansas City Blazers finished four seconds back in 1:51.81, while Parkway's Kian Quigley came in third at 1:52.37.
In the 400 freestyle relays, Columbia Swim Club's Lily Salzer (52.54), Kelley Tackett (51.20), Kortney Betz (53.46) and Chelsea Tatlow (49.62) set a new pool record of 3:26.82. Greater Omaha won the men's 400 free relay with Robert Hemmingsen (46.51), Michael Mollak (45.51), William Frisbie (47.79) and Jacob Molacek (41.55).
Columbia Swim Club won by the meet by the slimmest of margins, 789 points to 786, over the Kansas City Blazers. Rockwood Swim Club finished third in the combined team standings with 456 points.