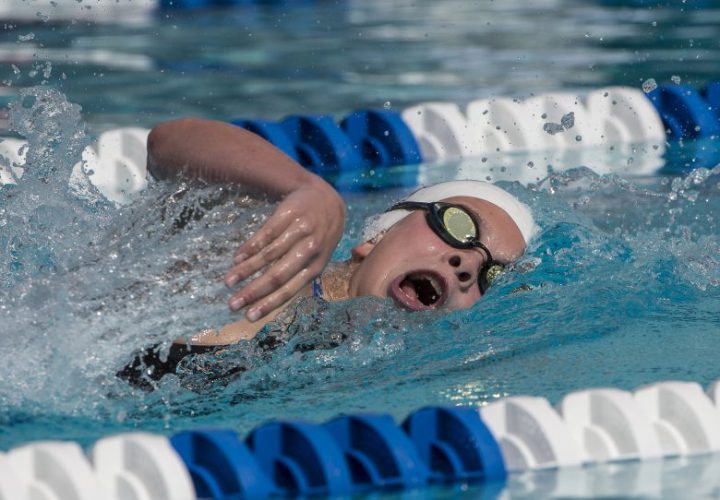 Photo Courtesy: Peter H. Bick
Speedo Sectional Series is proudly sponsored by Speedo. Visit SpeedoUsa.com for more information on our sponsor.
Speedo Sectionals action in Iowa City began tonight with the men's and women's 1000 freestyles and some relay time trials.
Melissa Pish won the event as the only swimmer under ten minutes. The high school junior from Waves Bloomington was entered with a long course time. Nevertheless, the Duke commit posted a 9:50.78 to win the meet's first event.
Kelli McCarthy of Edina Swim Club held on to her second seed with a 10:01.64. The 17 year old out touched Red River Valley's Alexis Ljunggren who finished in 10:01.72.
In what is listed as a time trial on Meet Mobile, Waves Bloomington's Noelle Peplowski clocked an impressive 10:02.51.
Chicago Wolfpack's Jacob Furlong edged Black Hawk Area's Dylan Moffatt for the men's title as the two finished in 9:16.34 and 9:17.21. Moffatt is only 14 years old. Mitchell Gavars of Barrington Swim finished third with a 9:29.92.
Fort Collins Area Swim Team dominated the girls' 200 medley relay time trial. The A team of Bayley Stewart, Zoe Bartel, Coleen Gillilan, and Kylee Alons touched in 1:38.84. That time lowered their own National Age Group record by .01.
While the team's A squad was DQed, the B team of Stewart, Audrey Reimer, Andrea Niemann, and Sidney Trimm posted a 1:36.39 to win the 200 freestyle relay time trial.
Fort Collins also went after the men's relay time trials. William Kovac, Joshua Pales, Loren Gillilan, and Shamzi Alkaff combined for a 1:32.29 in the 200 medley relay. Gillilan, Alex Dragan, Kovac, and Alkaff touched in 1:23.97 to win the 200 freestyle relay.
Full results on Meet Mobile- 2017 Speedo Sectionals at Iowa City, IA.