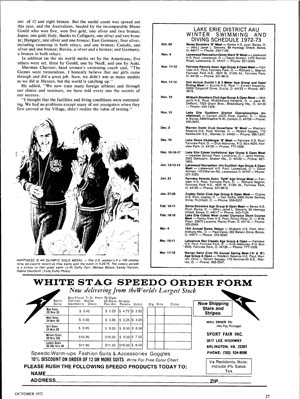 TEMPE, Arizona, February 25. IN what is starting to become a trend, another set of Olympic gold medals has been stolen, according to the Arizona Republic.
Melissa Belote Ripley had her three gold medals from the 1972 Olympics stolen from her house in Tempe. According to the article, Ripley usually keeps the medals in a safe deposit box, but had them stolen from her home after taking them out for a speaking engagement.
Ripley won all three gold medals at the Munich Olympics at the age of 15. She swept the backstroke events, and helped the 400 medley relay to victory. Belote won the 100 back going away with a time of 1:05.78, which lowered her own Olympic record set during semis of 1:06.08. In the medley relay, she leadoff the team of Belote (1:06.24), Cathy Carr (1:13.99), Deena Deardurff (1:02.61) and Sandy Neilson (57.90) to a winning time of 4:20.75. She completed her gold-medal trifecta with a world-record time of 2:19.19 in the 200 back.
In the picture on the right, from the October 1972 issue of Swimming World Magazine, Belote can be seen showing off one of the stolen medals. Her name has been engraved on the edge of each of the gold medals, with the name of each event in German.
Full text of Arizona Republic article.
This is second time in as many years that a U.S. Olympic gold medalist has had medals stolen. Last February, Josh Davis suffered the same fate when his medals were stolen from his car. Let's hope that Ripley has the same outcome as Davis' medals were returned shortly after the theft.