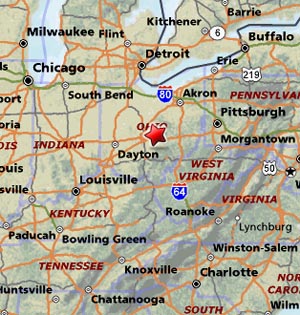 PHOENIX, Arizona, November 3. THIS Saturday, SwimmingWorldMagazine.com will feature one of the top Division III match-ups of every year – Kenyon vs. Denison. This year's battle takes place at the Gregory Pool on the campus of Denison.
We will also keep an eye on the men's meet featuring No. 3 Texas hosting No. 4 California and No. 12 Indiana.
Here is a quick preview of the Kenyon/Denison match-up:
Date and Time: Saturday, November 3, 2006, 1 p.m.
Location: Granville, Ohio
Facility: Gregory Pool
Kenyon's Last Time Out:
The Kenyon College women won the 22nd-annual North Coast Athletic Conference Relays with 158 points as they won six of eight swimming events. The men scored 148 points, but had to settle for second place among a pool full of nine conference teams. Kenyon won five of the eight swimming events.
For the women, freshman Tina Ertel led the way for the Ladies, as she guided her teams to victories in the 200-yard medley, 200-yard backstroke, 400-yard IM and the 200-yard freestyle relays. Senior Jessica Connors and sophomore Brittany Hurd each were a part of three Kenyon wins. They both swam on the winning 200-yard backstroke team. Connors helped the 200-yard breaststroke team and the 400-yard individual medley team to wins, while Hurd swam a leg with the winning 200-yard medley and 200-yard freestyle relay teams.
On the men's side, freshman Blair Withington had an outstanding debut for the Lords, as he swam a leg on four of the five winning teams. Senior Davis Zarins had a hand in three KC wins, and so did junior Carroll Bullock. Senior Joey Gosselar swam with two winning teams, as did sophomore Matthew Harris.
Kenyon head coach Jim Steen did not return repeated phone calls to discuss the upcoming meet against Denison.
Denison's Last Time Out:
Denison's men's and women's swimming and diving teams went a combined 4-0 on Oct. 28 in a pair of split-squad meets. The men defeated Ohio Wesleyan, 142-80, in Granville and beat Oberlin on the road, 154-49. The women downed Ohio Wesleyan, 128-91, and Oberlin, 141-79.
For the men, Adam Ulrich, Lowell Byers, Bryce Peterson and David Curtis each won a pair of events against Ohio Wesleyan. Junior Stephen Julka won both the one meter and three meter dive competition against the Bishops. At Oberlin, Jon Behnke and John Geissinger each won three events to lead the Big Red. DU did not send any divers to Oberlin.
At Oberlin for the women, freshman Jenny Cunningham won the 1000 and 500 yard freestyles. Senior Meg Cassell helped her 400 yard medley relay team to a first-place finish. She also placed first in the 200 free in 56.31 against Ohio Wesleyan.
Looking forward with Denison head coach Gregg Parini:
In most years, the Kenyon meet provides us with a great atmosphere for some energized swimming early in the season and this year's meet should be no different. More important, however, the meet gives us a great chance to measure how well our training is going and to identify areas that need to be improved as we look towards championships later in the season.
Top 2006-07 Times Comparison:
Men:
50 Free
KENYON: N/A
DENISON: 22.10, Lowell Byers
100 Free
KENYON: N/A
DENISON: 47.56, John Geissinger
200 Free
KENYON: N/A
DENISON: 1:47.31, David Curtis
500 Free
KENYON: N/A
DENISON: 5:05.57, Andy Catlin
1000 Free
KENYON: N/A
DENISON: 10:17.65, Wes Bubb
100 Back
KENYON: N/A
DENISON: 53.92, Adam Ulrich
200 Back
KENYON: N/A
DENISON: 1:58.15, Adam Ulrich
100 Breast
KENYON: N/A
DENISON: 1:03.51, Jamie Slater
200 Breast
KENYON: N/A
DENISON: 2:19.33, Bryce Peterson
100 Fly
KENYON: N/A
DENISON: 55.00, Rob Steele
200 Fly
KENYON: N/A
DENISON: 2:02.38, David Curtis
200 IM
KENYON: N/A
DENISON: 2:06.19, Pat Kirsch
400 IM
KENYON: N/A
DENISON: 4:15.19, Bryce Peterson
200 Free Relay
KENYON: 1:28.24
DENISON: 1:26.99
400 Free Relay
KENYON: N/A
DENISON: 3:20.37
800 Free Relay
KENYON: N/A
DENISON: N/A
200 Medley Relay
KENYON: 1:36.79
DENISON: 1:38.09
400 Medley Relay
KENYON: N/A
DENISON: 3:39.75
1M Diving
KENYON: N/A
DENISON: 286.05, Stephen Julka
3M Diving
KENYON: N/A
DENISON: 265.00, Stephen Julka
Women:
50 Free
KENYON: N/A
DENISON: 25.31, Liv Zaleski
100 Free
KENYON: N/A
DENISON: 55.72, Anna Comella
200 Free
KENYON: N/A
DENISON: 2:01.02, Lauren McKenna
500 Free
KENYON: N/A
DENISON: 5:19.76, Jenny Cunningham
1000 Free
KENYON: N/A
DENISON: 10:57.08, Jenny Cunningham
100 Back
KENYON: N/A
DENISON: 1:00.30, Meg Cassell
200 Back
KENYON: N/A
DENISON: 2:16.22, Diana Harlow
100 Breast
KENYON: N/A
DENISON: 1:10.62, Rochelle Akradi
200 Breast
KENYON: N/A
DENISON: 2:28.40, Kathy Faingold
100 Fly
KENYON: N/A
DENISON: 1:00.79, Kate Rich
200 Fly
KENYON: N/A
DENISON: 2:13.30, Christine Wissink
200 IM
KENYON: N/A
DENISON: 2:15.32, Kate Rich
400 IM
KENYON: N/A
DENISON: 4:46.82, Kathy Faingold
200 Free Relay
KENYON: 1:38.68
DENISON: 1:39.91
400 Free Relay
KENYON: N/A
DENISON: 3:50.41
800 Free Relay
KENYON: N/A
DENISON: N/A
200 Medley Relay
KENYON: 1:48.47
DENISON: 1:50.45
400 Medley Relay
KENYON: N/A
DENISON: 4:09.41
1M Diving
KENYON: N/A
DENISON: N/A
3M Diving
KENYON: N/A
DENISON: N/A