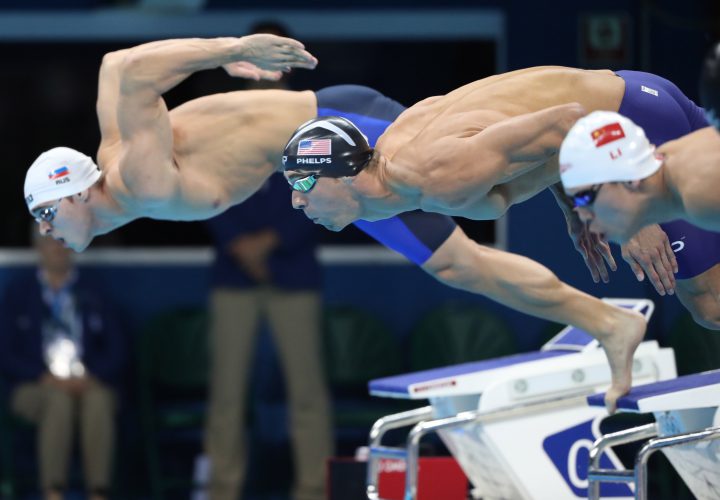 Photo Courtesy: Erich Schlegel-USA TODAY Sports

Editorial Coverage Sponsored By FINIS
22-time Olympic gold medalist Michael Phelps will be favored to add one more to his tally when he swims the fly leg on the U.S. men's 400 medley relay tonight. Phelps, the silver medalist in the 100 fly and already with four golds won this week, will be joined by 100 back gold medalist Ryan Murphy, 100 breast bronze medalist Cody Miller and 100 free bronze medalist Nathan Adrian as the Americans go for the win in the final swimming event of the Games.
Great Britain enters the finals at the top seed, and they will return the same foursome they swam in Friday's prelims: Chris Walker-Hebborn, 100 breast gold medalist and world record-holder Adam Peaty, James Guy and Duncan Scott.
Australia figures to contend as well, and they will roll out Mitch Larkin, Jake Packard, David Morgan and 100 free gold medalist Kyle Chalmers. China will lead off with 100 back silver medalist Xu Jiayu, Japan has Yasuhiro Koseki set to swim breaststroke, and Vladimir Morozov will have anchor duties for Russia.
The start list for the men's medley relay can be found here.
The women's medley relay will go off second-to-last, and the Americans have established themselves as gold medal favorites with strong performances this week. The foursome will include 100 back silver medalist Kathleen Baker, 100 breast gold medalist Lilly King, 100 fly bronze medalist Dana Vollmer and 100 free gold medalist Simone Manuel.
Australia has struggled this week, but they will attempt to salvage a medal here. Cate Campbell will look to bounce back in tonight's finals sessions with the individual 50 free and then later as the anchor on this relay. Emily Seebohm, Taylor McKeown and Emma McKeon will lead into Campbell's leg.
China's strong squad includes co-100 back bronze medalist Fu Yuanhui, Shi Jinglin, Lu Ying and Zhu Menghui, while the red-hot Canadians—who have already won six women's medals in Rio after winning none in the previous 20 years—will go for their third top-three finish in has many women's relays with their squad of 100 back co-bronze medalist Kylie Maase, Rachel Nicol, 100 free gold medalist Penny Oleksiak (swimming fly) and Chantal van Landeghem bringing things home.
View the start list for the women's race here.