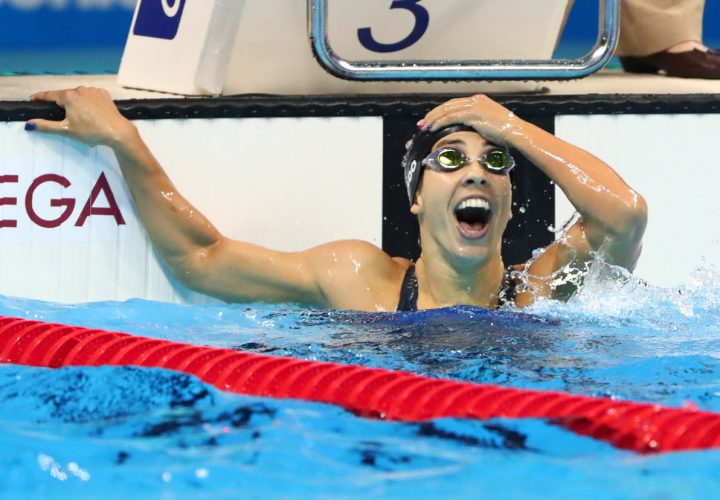 Photo Courtesy: Erich Schlegel-USA TODAY Sports

Editorial Coverage Sponsored By FINIS
Women's 200 Back FINAL:
When the women of the 200 back final walked out on deck for their final swim many believed that Hungary's Katinka Hosszu was about to bag her fourth and final Olympic gold medal of the meet.
Hosszu was quick off the start, powering her way to a decisive lead with more than half a second separating her from the USA's Maya DiRado and Canada's Hilary Caldwell at the 100 turn. With 25-meters left to go DiRado gained on Hosszu, powering to the wall to out-touch Hosszu by .06 seconds with a 2:05.99.
The "Iron Lady" settled for second with a time of 2:06.05, while Caldwell took third with a 2:07.54.
Russia's Daria Ustinova delivered a final 2:07.89 to pick up fourth, while Australia's Belinda Hocking took fifth with a 2:08.02.
Kirsty Coventry of Zimbabwe picked up sixth with a 2:08.80, ahead of China's Liu Maxine's 2:09.03.
Iceland's Eyglo Gustafsdottir rounded out the top eight with a 2:09.44.
Full results are available here.