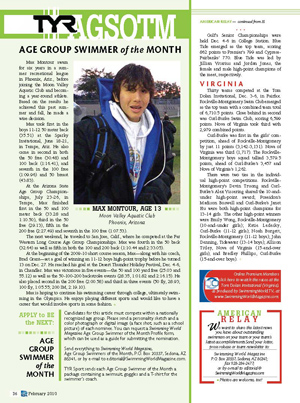 PHOENIX, Arizona, February 11. IN the February issue of Swimming World Magazine, Max Montour of Moon Valley Aquatic Club in Phoenix, Ariz., earned recognition as the TYR Age Group Swimmer of the Month.
Click here to get your premium subscription, then visit the Premium Section to download this issue.
Click here for a preview of the other multimedia items available in the February issue.
This issue is truly interactive with nearly 100 links for Premium Subscribers to get the rest of the story, results or even visit the web sites of Swimming World Magazine's advertisers.
Become a Premium Member Today to take advantage of these great digital versions of Swimming World Magazine.
Video Preview of February Issue

February 2010 Issue
Contents of The February issue:

8 THE NEXT DECADE by John Lohn
Here's a short list of things we can expect to see—or hope to witness—in the world of swimming in the next decade.
10 SUIT YOURSELF
Effective Jan. 1, 2010, FINA banned the new-and-improved polyurethane speed suits from being used in competition. Did FINA make the right decision?
20 U.S. SWIMMERS BID FAREWELL TO 2009 by Jason Marsteller
USA Swimming provided national competition for its senior and junior swimmers on two successive weekends in December.
23 THE TRUE "LAST HURRAH"? by Jason Marsteller
Ten world records were bettered at the European Short Course Championships in December.
24 A Disappointin g Duel by Jason Marsteller
The new format for the Duel in the Pool in which there would be two meets—Australia vs. Japan and the United States vs. Europe—didn't meet expectations at the competition in Europe.
37 NAG TOP 10 (LONG COURSE)
DEPARTMENTS:
6 A VOICE for the SPORT
43 CAMP DIRECTORY
53 FOR THE RECORD
59 CALENDAR
62 PARTING SHOT
In the Swimming Technique portion of the magazine you will find the following:


29 Q&A WITH COACH RYAN KILLACKEY,
OUACHITA BAPTIST UNIVERSITY by Michael J. Stott
31 HOW THEY TRAIN: Nelson Silva by Michael J. Stott
32 USSSA: Survival First, Swimming Second by Antony White
The British Swim School, based in South Florida, believes that for the very young, the back-float method affords the best possible chance for survival.
In the SWIM portion of the magazine you will find the following:

25 THE POOL'S EDGE: Similarities in Training by Karlyn Pipes-Neilsen
Being mindful of the similarities with freestyle, here are 10 suggestions on how to improve your technique for butterfly and breaststroke.
26 DRYSIDE TRAINING: After-Exercise Stretches to Increase Range of Motion
by J.R. Rosania
28 LANE LEADERS: Laureen Welting by Emily Sampl
In the Junior Swimmer portion of the magazine you will find the following:
34 NATIONAL AGE GROUP RECORD SETTERS:
Irvine Aquazot Swim Club 11-12 Boys 400 Yard Medley Relay
35 AMERICAN RELAY by Judy Jacob
36 TYR AGE GROUP SWIMMER OF THE MONTH:
Max Montour, Moon Valley Aquatic Club
Free Shipping in the USA