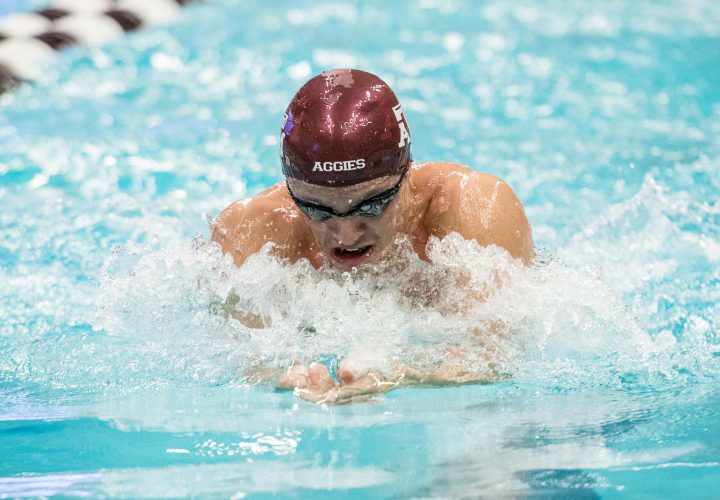 Photo Courtesy: Thomas Campbell/Texas A&M Athletics
The Arena Grand Prix meet in Tijuana, Mexico was underway from April 12-15 and served as a qualifier for the Central American and Caribbean Games later this summer. Several Mexican records also fell during the four day meet.
Liliana Ibanez won three events and one Mexican record over the course of the meet. Ibanez won the 50 fly (27.68), 50 free (25.81), and 100 free (55.49), just sneaking under her previous record in the 100 free by .01. Melissa Rodriguez also won three events over the course of the meet with one Mexican record. Rodriguez won the 50 (32.05), 100 (1:09.28), and 200 Breast (2:28.14), with her time in the 50 taking .03 off of her old record.
Mauro Castillo, who recently graduated after a successful NCAA career at Texas A&M, was a standout from the meet, winning two events in Mexican record time. Castillo dropped a tenth from each of the previous records, taking the 100 breaststroke to a 1:00.89 from 1:00.99, and taking the 200 breaststroke down to 2:12.13 from 2:12.25.
Jorge Iga won the most events of any competitor at the meet, notching four wins. Iga won the 50 fly (24.08), 50 free (22.90), 100 free (49.95), and 200 free (1:49.99), with his time in the 50 fly breaking his own Mexican record. You can find the complete results from the Arena Grand Prix meet in Tijuana here.