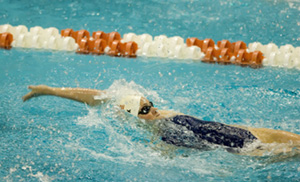 AUSTIN, Texas, February 10. EVEN before she entered the full recruiting process during her senior year next year, reigning Swimming World National High School Swimmer of the Year Mary Beck elected to verbally commit to the University of Texas today.
"I have verbally committed to the University of Texas," Beck, a junior at Austin Westlake who just lowered the 200 IM national high school record yesterday, told Swimming World. "It is a great school and I am so excited to be a part of the team. I am really impressed with the coaches and the swimmers. I am really happy with my swims this past weekend and can't wait for the state meet!"
This gives women's head coach Kim Brackin a strong headstart on the Class of 2009 recruiting as she continues the momentum built with a strong Class of 2008 group including Karlee Bispo, Leah Gingrich, Kathleen Hersey, Kate Nelsen, Kate Riefenstahl and Kierstin Thornhill. Brackin was unavailable for comment due to NCAA rules.