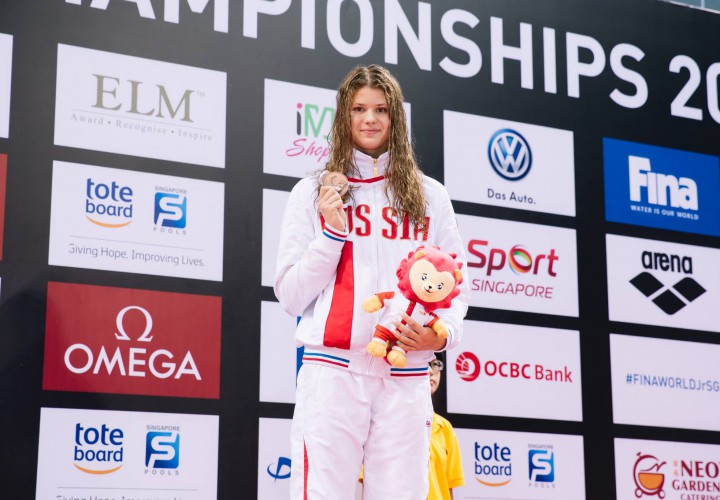 Photo Courtesy: Singapore Swimming Federation
Day two of the 2018 Russian Swimming Championships took place today and will serve as the selection meet for this year's European Championships which will be held August 3-12 in Glasgow, Scotland.
Two Russian national records fell yesterday and one more was broken today to highlight the second day of competition, which takes place April 20-25 in Moscow.
Men's 1500 Free
Ilya Druzhinin began day two of the 2018 Championships with a win in the men's mile. He broke away from the field with 300 meters to go to touch the wall in a final time of 15:03.36.
Yaroslav Potapov, who held the lead the majority of the race, finished second in 15:07.85. Ilya Siberian took third in 15:18.77.
Men's 100 Breast
Anton Chupkov used a strong back half to win a tight men's 100 breast race. He got his hands to the wall first in 59.15.
Kirill Prigoda finished a close second in 59.27 and Ilya Khomenko wasn't far behind to finish third in 59.48.
Women's 100 Fly
Svetlana Chimrova handily won the women's 100 fly, posting a final time of 57.39. She is the current Russian national record holder in this event after posting a 57.17 at this meet last year.
Fourteen-year-old Aleksandra Sabitova posted an impressive 58.18 for second as the only other swimmer under the one-minute mark. Sophia Lobova finished third in 1:00.17.
Women's 50 Free
Maria Kameneva sprinted her way to first in the women's 50 free, stopping the clock in a swift 24.61. That time set a new Russian national record.
Arina Surkova finished second in 25.05 and Daria Ustinova took a close third in 25.10.
Women's 200 Back
Darya Ustinova cruised to first in the women's 200 back, finishing nearly two seconds ahead of the field. She posted a final time of 2:07.84.
Second went to Anastasia Vdeeva (2:09.25) and Polina Egorova (2:09.94) finished third.
The third day of competition will see finals in the men's 100 free and 200 fly as well as the women's 100 breast and 50 back.