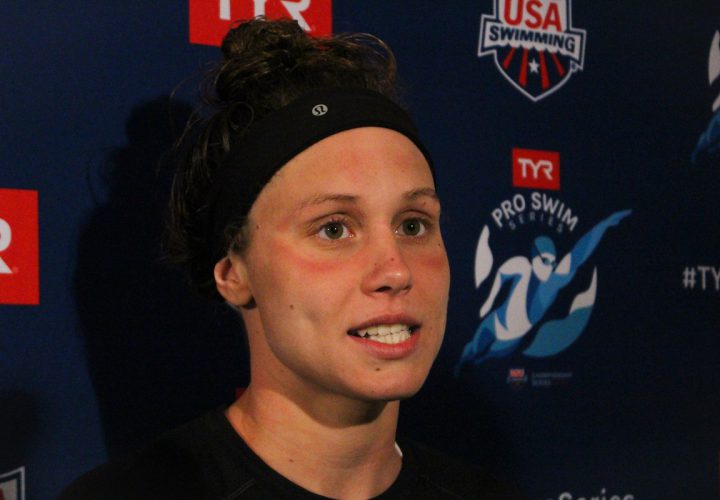 Photo Courtesy: Taylor Brien
Editorial content for the 2018 TYR Pro Swim Series Mesa is sponsored by SwimOutlet.com. Visit SwimOutlet.com for more information on our sponsor. For full Swimming World coverage, check out our event coverage page.
Mallory Comerford has had a successful weekend at the TYR Pro Swim Series in Mesa, Arizona, most recently winning the 50 free knockout title against some stiff competition including Kelsi Dahlia, Lia Neal, and Margo Geer, with a time of 24.94.
Comerford spoke with Swimming World after a big day of racing on Saturday, and reflected on how much has changed since her freshman year, recalling how she went "like, a 26.6" in the 50 free back then. She credits some of her improvement to her time on the national team and the support and camaraderie of her teammates.
Although her 200 freestyle wasn't exactly what she expected with a 2:02.72, she mentions how it is her hardest race now and each time she races it, she uses that experience to better herself and learn more about how to race the event.
Watch more video interviews from the TYR Pro Swim Series in Mesa here.