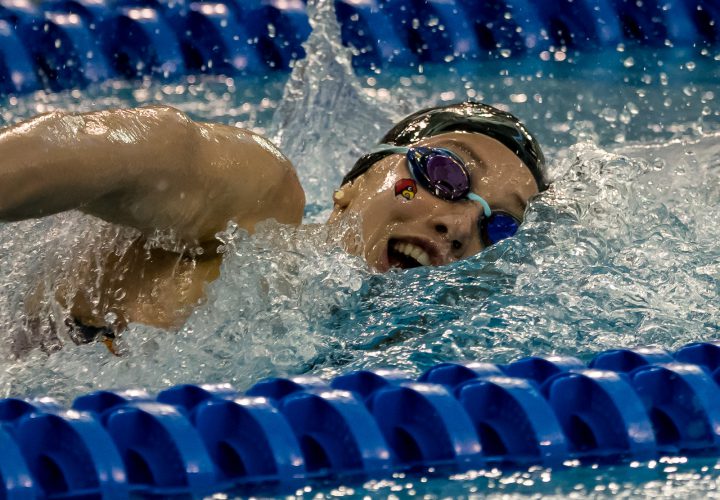 Photo Courtesy: Peter H. Bick
Editorial content for the 2018 TYR Pro Swim Series Mesa is sponsored by SwimOutlet.com. Visit SwimOutlet.com for more information on our sponsor. For full Swimming World coverage, check out our event coverage page.
The top eight women in the 50 Freestyle after the morning prelims were Mallory Comerford, Margo Geer, Madison Kennedy, Kelsi Dahlia, Lia Neal, Anika Apostalon, Louise Hansson and Isabella Arcila Hurtado.
Comerford dipped under 25 seconds to win the Quarterfinals in 24.94, followed closely by Margo Geer in 24.96. Kennedy was next in 25.07 and Dahlia took fourth in 25.24. Neal originally took fifth in 25.36, but was awarded a spot in the final after Kennedy scratched.
Apostalon (25.52), Hansson (25.62) and Hurtado (25.92) finished sixth through eighth.
Neal them capitalized on her opportunity by getting second in the Semifinals in 25.42. Comerford took the win once again in 25.00. Geer and Dahlia both narrowly missed the Finals as they tied in 25.48.
The women went stroke-for-stroke through fifteen meters, but Comerford swam away with the race in 25.10. Neal finished in 25.59.