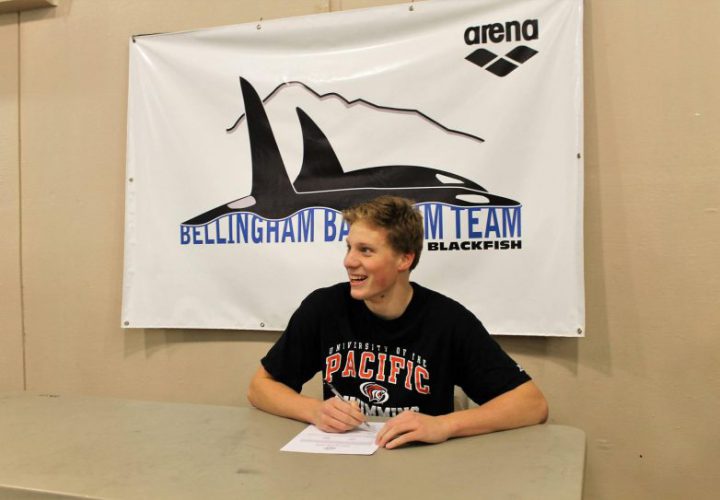 Photo Courtesy: Christina Boyd/Bellingham Bay Swim Team
By Emily Messina, Swimming World College Intern
As it comes down to the final few weeks before the end of the college decision making process, many students are still choosing where they want to attend. This can be a stressful decision for anyone because it's difficult to determine what you want for your future and where you think you would fit best. This can be an even tougher decision for those students who are choosing to continue to play a sport in college. For those who haven't yet made their selection, there is still time to think things through and consider every aspect before a final choice is made.
Here are five things for prospective student-athletes to remember when deciding on a university:
1. The Atmosphere
This may be one of the most important aspects of deciding on a school. If you went on a recruiting trip or toured the campus, you definitely felt a certain way when you walked around the school. You noticed the attitudes of the students and you saw the way they interacted with their classmates and the school employees.
Was there a feeling of camaraderie? Was everything bustling and busy or was it calmer and more casual? These are all things that contribute to the atmosphere of the school. It is essential to think about the feelings and sensations you got from visiting the university and determine if this is something that will make you feel comfortable and happy long-term.
2. The Team
The way the team interacts with each other and their coaches is a crucial thing to note. These are going to be people that you spend a ton of time with. They are going to be people that you will be called to provide support for and work with; they are going to be people you need to be able to count on. Can you envision yourself being apart of this? Look into the kinds of team bonding activities they do, the way they took care of you if you came on a recruiting trip, and if the bond is shared and encouraged by all classes from freshman to seniors.
3. The Surrounding Area
When you chose a college you are also a new place to live in. It is important to know if you would prefer to be in a rural area or in the city, if you would prefer to be surrounded by a lot of other schools or be the biggest school for miles, and if you want a definitive "college town."
By understanding what it is your looking for you can narrow down your options a lot. In addition, it is important to remember that you will probably want to leave campus from time to time. If you are in a city, it is easy to travel to the surrounding area by public transportation and there will always be a lot to do. If you are in the countryside, there may be less to experience off-campus.
4. The Opportunities
After you graduate college, you will hopefully find a great job. One of the ways to make this less stressful and an easier feat to tackle is by knowing if a university has good connections. Make sure that the schools you are looking at have good programs for your potential major. It is also vital to know if they are successful in matching students with good internships and job experience.
Do they communicate with big companies that you might be interested in? Is the school in a good location for the type of career you are looking for? Are students graduating with good jobs? At the end of the day, the opportunities that your school can provide or help you achieve should be a significant factor in your decision.
5. Is this what I want?
Finally, after you have considered all of the things that might help you to determine if a university and their swim program is a good fit for you, remember to think about if swimming in college is the right decision for you.
Continue the sport only if you are truly passionate and dedicated to it. It is a big commitment not only to yourself, but also to your team. You always have to show up to every practice, you always have to work hard, you always have to want to better yourself, and you always have to be a great teammate. If you don't feel this way and you don't put in the required effort then you will only be letting yourself and your teammates down. However, if you are ready for it, then make sure to consider swimming and your potential new team as a big part of the decision process in choosing your college.
Swimming is a special sport that is so completely and utterly exhausting and at the same time so wonderfully worthwhile and rewarding. Finding the right fit in a university and a team can be a challenge, but I hope that everyone who continues to participate can fall further in love with it and understand just how much it can change your life for the better.
All commentaries are the opinion of the author and do not necessarily reflect the views of Swimming World Magazine nor its staff.