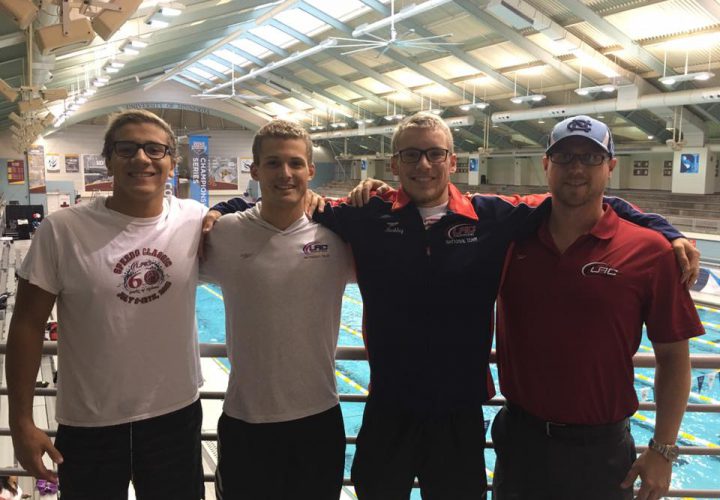 Photo Courtesy: Lancaster Aquatic Club Facebook
Speedo Sectional Series is proudly sponsored by Speedo. Visit SpeedoUsa.com for more information on our sponsor.
The 2017 Speedo Sectional Series in Christiansburg, Virginia, began today. The meet, hosted by Virginia Swimming, will be held on March 30-April 2. The first day of competition saw the girl's mile and the boy's 1000 free.
Egg Harbor's Maggie Wallace won a close girl's 1650 race, touching the wall in 16:27.07. Radnor's Anna Kalandadze dropped three seconds from her seed time to finish a close second in 16:29.98. Egg Harbor's Amanda Nunan finished third in 16:40.08.
Radnor's Anastasia Lesho (17.14.38), Nation's Capital's Shannon Campbell (17:18.34), Delaware's Heidi Dickson (17:26.47), Delaware's Emma Menzer (17:29.93), and Coast Guard Blue's Isabella Kimbel (17:30.69) rounded out the top eight.
Lancaster's Arthur Markley dominated the boy's 1000, winning by over 14 seconds. His time of 9:13.03 was just off his entry time. H2okie's Ethan Apisa took second in 9:27.47 and Delaware's Bryce Ciecko dropped nearly 30 seconds off his seed time to finish third in 9:30.82.
Radnor's Collin Pettit (9:31.01), Lancaster's Matthew Feryo (9:31.12), Pine Richland's Ryan Schonbachler (9:36.73), Diplomat's Keir Uhlin (9:38.59), and Nation's Capital's Leo Goldblatt (9:38.60) completed the top eight.
Tomorrow's action will include the 200 free, 100 breast, 100 fly, 400 IM, and 800 free relay. All results can be found on Meet Mobile-2017 EZ Southern Region Speedo Champ Series.