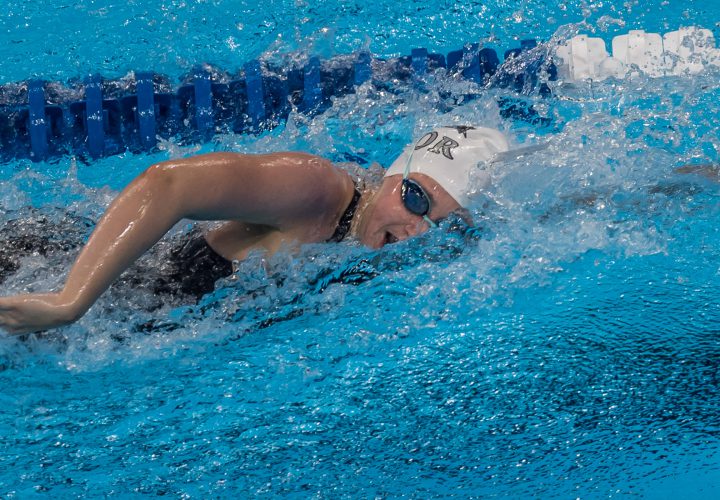 The 2018 NCSA Junior National Championships kicked off tonight in Orlando, Florida. Changing the format from the past, the night began with the 1000 free, followed by the addition of the 100 IM. The night wrapped up with the 4×200 free relays.
Women's 1000 Free
Georgia commit Madison Homovich of Marlins of Raleigh took the first women's event of the 2018 NCSA Junior Nationals, winning the 1000 free in 9:33.63. Scottsdale's Ashley Strouse dropped an impressive 9:40.58 to take second.
13 year old Claire Tuggle of Clovis, who set multiple National Age Group records at this meet last year as a 12 year old, finished third in 9:43.88.
Men's 1000 Free
Local swimmer and Louisville commit Hayden Curley of Highlanders won the men's 1000 free, swimming to a time of 9:01.94. Curley was followed by Rockville Montgomery's Ryan Vipavetz in a time of 9:05.09 for second. Andrew Matejka of Bowling Green placed third in 9:08.43.
Women's 100 IM
In the women's 100 IM, Aquajets's Isabelle Stadden was the lone swimmer to dip under 55 seconds. Stadden claimed first place with her time of 54.81. Grace Countie of Marlins of Raleigh was second in 55.16. Countie just out touched her teammate, Abigail Arens, who came in third in 55.19.
Fourth place went to Arlington Aquatics's Victoria Huske in 55.31. Phoebe Bacon of Nation's Capital followed close behind for fifth in 55.32.
Sophie Skinner of the Norther KY Clippers placed sixth in 55.41, while NOVA's Grace Sheble was seventh in 55.42. Valerie Tarazi of the Mundelein Mustangs rounded out the top eight in 55.70.
Men's 100 IM
Steven Thalblum of Nation's Capital broke the 50 second barrier to win the men's 100 IM. His winning time was 49.93. Second place went to William Myhre of St. Charles in 50.21.
Two Nation's Capital teammates, Sean Conway and Darren Durocher, tied for third in 50.28. Just behind them was another one of their teammates, Kyle Barker, was fifth in 50.29.
There was another tie for sixth place between Rockville's Eli Fouts and Machine's Casey Storch in 50.32. David Madej of SwimStrongsville was eighth in 50.50.
Women's 4×200 Free Relay
Nation's Capital's relay of Sinead Eksteen (1:48.69), Madeline Laporte (1:48.16), Isabella Gati (1:49.36), and Katelyn Mack (1:48.38) claimed the women's 4×200 free relay in 7:14.59. Second place went to the team of  Countie (1:48.08),  Arens (1:49.49), Homovich (1:47.15), and Adrianna Cera (1:51.07) from Marlins of Raleigh in 7:15.07. The NOVA of Virginia relay of Grace Sheble (1:47.02), Megan Pulley (1:50.14), Sydney Whiting (1:48.96), and Caroline Sheble (1:50.41) finished third in 7:16.53.
Men's 4×200 Free Relay
First place in the men's 4×200 free relay went to the Academy Bullets team of Spencer Walker (1:38.62), William Kamps (1:39.02), William Raidt (1:38.37), and Horace Qiao (1:39.44) in 6:35.45. New Trier's Charles Scheinfeld (1:38.48), Ean Vandergraaf (1:41.24), Patrick Gridley (1:39.40), and Ryan Gridley (1:37.20) finished second in 6:36.32. The Long Island relay of Timothy Marski (1:39.89), Adam Kapusta (1:42.18), Jason Louser (1:39.18), and Christian Sztolcman (1:37.74) came in third in 6:38.99.
Results can be found on Meet Mobile.