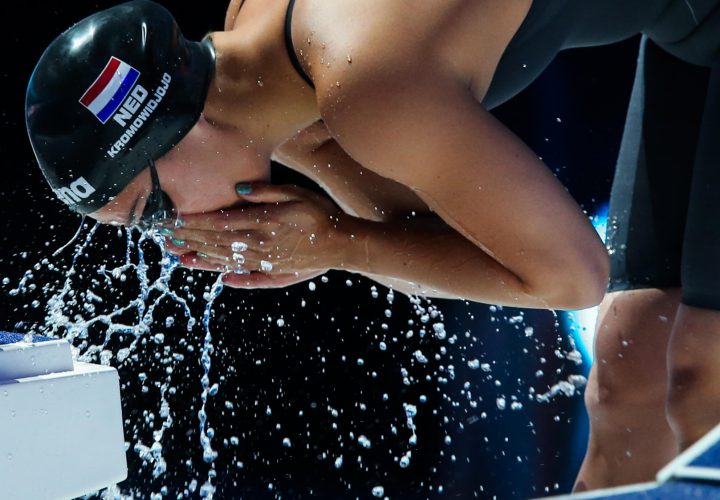 This week's Performance Of The Week, sponsored by LumaLanes, goes to Ranomi Kromowidjojo, who reclaimed her short course world record in the 50 freestyle at the Berlin stop of the 2017 FINA World Cup.
Kromowidjojo's record came less than a week after Sarah Sjostrom broke her old world record in the first stop of the FINA World Cup in Moscow, where the Swede touched in 23.10 to Kromowidjojo's 23.39. But the Dutch Olympic gold medalist prevailed in their second showdown in record-breaking fashion, delivering a massive 22.93 to became the first woman in history to swim a short course 50 free under 23 seconds. Sjostrom was just behind her in 23.00 for second.
This swim marks the third time that Kromowidjojo has broken the short course world record in this event and her ninth overall world record. The Dutchwoman initially set the record 23.24 way back in 2013 before tying the record again in 2015. Kromowidjojo is no stranger to international success, having won the 50 and 100 free at the London Olympics in addition to multiple short and long course World Championship titles. 
And while she failed to medal in any event at the Rio Games, she rebounded with four medals at the most recent World Championships, showing she is still a force to be reckoned with. Kromowidjojo recently announcing her intent to swim through the 2020 Tokyo Olympics, so it looks like the 26-year-old looks to be on a path to continuing adding her name to the record books in the coming years.
Congratulations Ranomi Kromowidjojo on earning Swimming World's Performance of the Week!
Special Thanks to LumaLanes for sponsoring Swimming World's Performance of the Week.
Learn More About LumaLanes