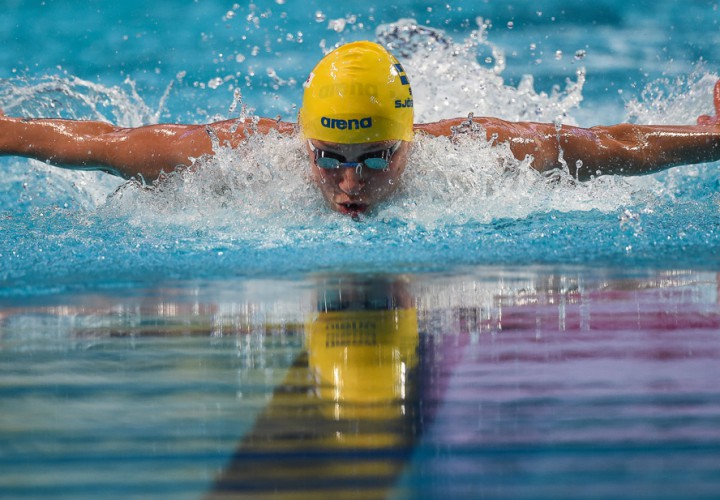 Photo Courtesy: R-Sport / MIA Rossiya Segodnya
This week's Performance Of The Week, sponsored by LumaLanes, goes to Swedish Olympian Sarah Sjostrom for her strong performance in the 100 butterfly at the 2018 Luxembourg Euro Meet this weekend.
Sjostrom, who is the defending Olympic gold medalist and world record holder in the 100 butterfly, has been making more noise for her freestyle since the Rio Olympics, breaking the world records in the 50 and 100 free this summer in Budapest.
But while she has made waves in the long course freestyle events, Sjostrom was also oh-so-close to her own world record in the 100 butterfly at this summer's World Championships. At that meet she set a championship record of 55.53, just .05 shy of her WR, and this weekend's performance shows she is still the one to watch in this event for the foreseeable future. Her 56.77 broke her own meet record from the previous year and is the fastest time so far in the world in 2018, making her the only woman so far to swim the event in under 58 seconds.
While her 2017 was arguably the most successful year of her swimming career thus far, Sjostrom shows no intentions of slowing down in 2018.
Congratulations Sarah Sjostrom on earning Swimming World's Performance of the Week!
Special Thanks to LumaLanes for sponsoring Swimming World's Performance of the Week.
Learn More About LumaLanes