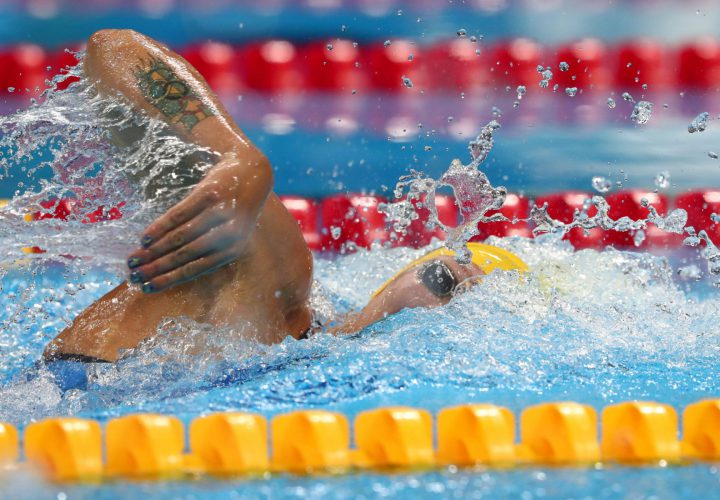 Photo Courtesy: Rob Schumacher-USA TODAY Sports
This week's Performance Of The Week, sponsored by LumaLanes, goes to Sweden's Sarah Sjostrom for her 50 free at the 2017 Stockholm Cup. Sjostrom threw down four world-leading times at the meet, including an all-time textile best of 23.83 in the 50 freestyle.
While Sjostrom is primarily known as a butterflier, she is also one of the best freestylers in the world right now. The Swede can swim all the way up to the 200 free (which she is no sleeper in — case in point her duel with Katie Ledecky in Rio where she finished just behind the American), and she was the Olympic bronze medalist in the 100 free as well, finishing behind co-gold medalists Penny Oleksiak and Simone Manuel.
And while her 50 fly is far and away the best in the world (her world record stands at 24.43, a competitive time for a 50 freestyle), her 50 free has not had the same level of success on the international stage. Even coming away with three medals at the Rio Olympics, Sjostrom failed to make the Championship final in the 50 free.
Her swim was Sjostrom's first best time in the event in three years and also downed Swedish legend Therese Alshammar's national record of 23.88 from 2009. With her time now far and away the fastest so far in the world (and two tenths faster than Pernille Blume's Olympic gold medal-winning time from last summer), Sjostrom has announced herself as a favorite for gold going into this summer's world championships.
Congratulations Sarah Sjostrom on earning Swimming World's Performance of the Week!
Special Thanks to LumaLanes for sponsoring Swimming World's Performance of the Week.
Learn More About LumaLanes