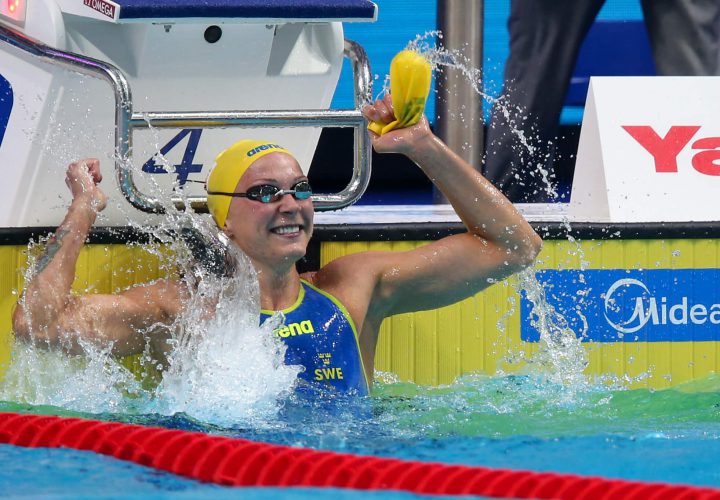 This week's Performance Of The Week, sponsored by LumaLanes, goes Sarah Sjostrom, who added her name to the world record book two more times this week at the first stop of the FINA World Cup.
Sjostrom is coming off a red hot performance at the 2017 FINA World Championships, where she earned four individual medals (3 gold, 1 silver) while also setting new long course world records in the 50 and 100 freestyles. Sjostrom has now added her name to the short course record book as well, taking down both sprint freestyle world records over two days in Moscow.
Sjostrom started the meet with a world record in the 50 freestyle, out-racing the former world record holder Ramoni Kromowidjojo to take the world record down to 23.10. That cut more than a tenth off of the previous mark and brings the Swede close becoming the first woman to swim under 23 seconds in the event. (Kromowidjojo, as it turns out, would swim even faster a few days later, becoming the first woman to ever break 23.)
The 23-year-old followed that up with a second world record on the next day of the meet, touching the wall in 50.77 to take .14 off of Cate Campbell's old world record that was set two years ago.
Sjostrom now owns the fastest time in history for the 50 and 100 in both the long course and short course pools, marks she had never broken until two weeks ago. Given Sjostrom's record breaking year so far, it is conceivable that the Swedish star could continue to take the records lower if she continues in more World Cup stops.
Congratulations Sarah Sjostrom on earning Swimming World's Performance of the Week!
Special Thanks to LumaLanes for sponsoring Swimming World's Performance of the Week.
Learn More About LumaLanes