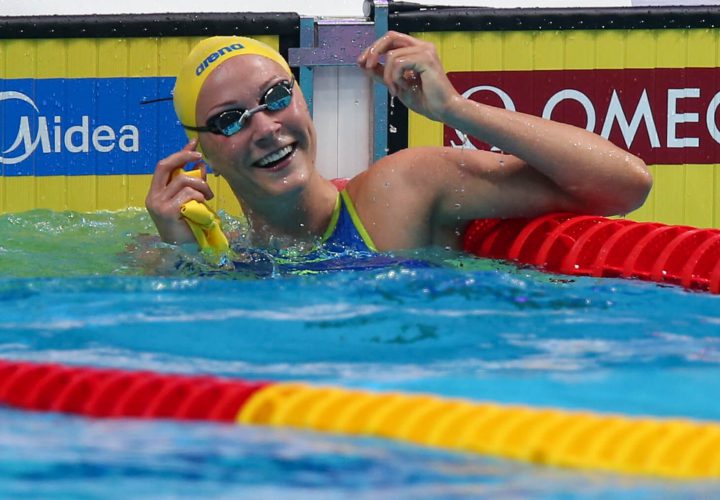 Editorial content for the 2017 FINA World Cup is sponsored by TritonWear. Visit TritonWear.com for more information on our sponsor. For full Swimming World coverage, check event coverage page.
Sarah Sjostrom has done it again. The 23-year-old from Sweden lowered another world record in a sprint freestyle event at the FINA World Cup stop in Moscow, taking down Cate Campbell's mark in the short course 100 free.
Sjostrom won the event Thursday in 50.77, 14 hundredths faster than the 50.91 Campbell swam two years ago. Two weeks ago, she had never set a world record in the 50 or 100 free, but she know owns the records in both distances in both short and long course.
Sjostrom broke the two long course world record at the FINA World Championships in Budapest before taking down Ranomi Kromowidjojo's 50 free record Wednesday in Moscow.
Kromowidjojo, representing the Netherlands, finished second to Sjostrom in this Moscow final, coming at 51.14 — quicker than the previous World Cup record of 51.14 set by Fran Halsall in 2009. Campbell finished third in 51.59.