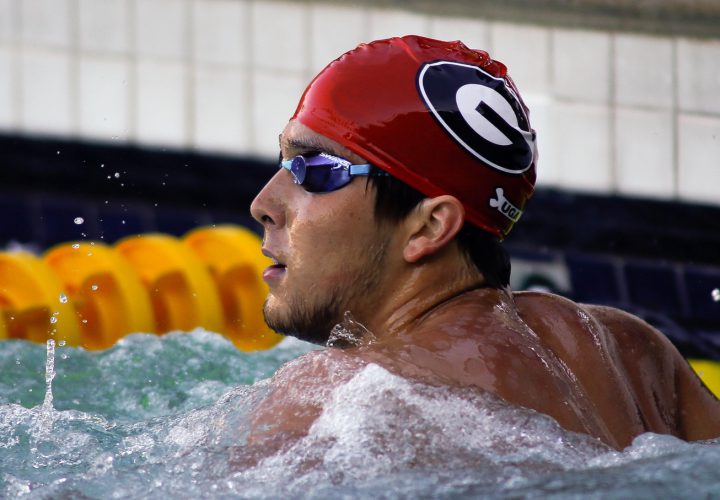 Photo Courtesy: Stan Szeto-USA TODAY Sports
This week's Performance Of The Week, sponsored by LumaLanes, goes to Jay Litherland, who completed an impressive double on the third night of the 2017 Santa Clara stop of the Arena Pro Series.
Swimming in the first two events in finals, Litherland secured a win the 400 IM before coming back 20 minutes later to take a surprise win the 200 free from lane 7, an event that (until now) he hasn't had much of an impact on the national scene.
Litherland is well-known as a 400 IMer after he finished a surprising second place behind teammate Chase Kalisz at the 2016 US Trials, running Ryan Lochte on the last 100, and went on to finish fifth in the event in Rio. The 4:13.79 is just under three seconds off of his lifetime best from Trials last summer and is a few tenths faster than his in-season best from June of last year heading into Omaha, showing he is in a great place heading into US Nationals in a few weeks.
But what truly made Litherland's performance special was what came after. With just 20 minutes after arguably the most grueling event on the schedule the rising Georgia senior came back with a come from behind win in the 200 free that we're used to seeing from him in the 400 IM. Touching the wall in 1:49.28, Litherland used a great second half to pass by three members of the U.S. 800 free relay team from Rio.
In an interview following his races, Litherland explained that the 200 will be a major focus event for him heading into this summer. His best is a 1:48.41 from the Indianapolis Pro Series stop last year, and while he failed to make it out of prelims at Olympic Trials he says failing to manage the emotion of qualifying in the 400 IM the day inhibited his performance.
Congratulations Jay Litherland on earning Swimming World's Performance of the Week!
Special Thanks to LumaLanes for sponsoring Swimming World's Performance of the Week.
Learn More About LumaLanes