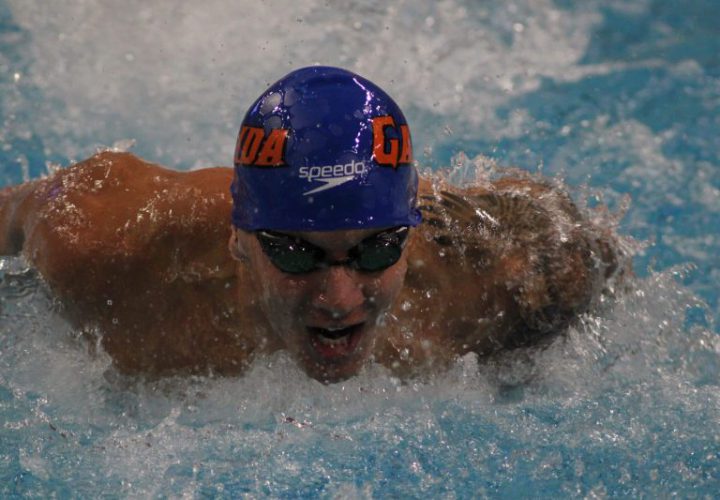 Photo Courtesy: Andy Ringgold/Aringo
This week's Performance Of The Week, sponsored by LumaLanes, goes to Caeleb Dressel for his 200 IM at the Purdue Invitational last week. With most swimmers off for the Thanksgiving holiday last week, we wanted to recognize Dressel for his headline-making swim at Purdue last week.
Touching the wall in 1:40.61, Dressel vaulted his way into the top 10 performers of all time, shaving more than 2 seconds off his previous lifetime best from last year's Georgia Tech Fall Invite. Splitting 22.28 / 25.62 / 29.15 / 23.56, Dressel became the ninth fastest performer of all time with a time that would have won NCAA's last year. You can see his full race below:
The Florida senior also led off the 200 free relay in a nation leading 18.66. He is the only swimmer so far this year to break 19 from a flat start. In an interview with Dressel following his races, he noted that he was happy with his sprint speed at this point in the year, particularly after a period of heavy training with Florida's IM group.
While the 200 IM could be considered an off-event, Dressel's success shouldn't be a total surprise after a record-breaking 2016 that saw him tie Michael Phelps' seven golds in a single World Championships. Speaking at the Golden Goggles last week, where he was named Male Athlete of the Year, Dressel said his success this summer has only motivated him heading into his final NCAA season. While he still claims he is "not an IMer," he does concede that his career is still young and he may continue to branch out into different events in the future.
Congratulations Caeleb Dressel on earning Swimming World's Performance of the Week!
Special Thanks to LumaLanes for sponsoring Swimming World's Performance of the Week.
Learn More About LumaLanes