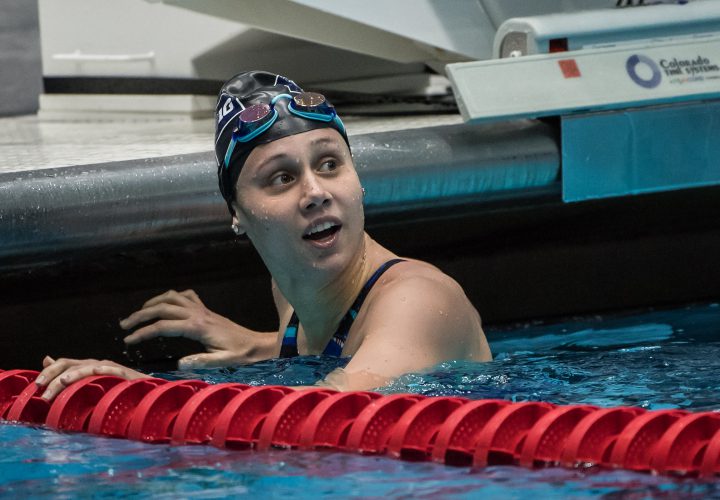 Photo Courtesy: Peter H. Bick
This week's Performance of the Week, sponsored by LumaLanes, goes to Mallory Comerford for her lightning fast 200 free at the 2017 SMU Classic. Going head to head with Michigan's Siobhan Haughey, Comerford used a monstrous final 50 to blow away the field and post far and away the fastest time in the country.
Out in 50.48 (24.49, 25.99) at the 100 mark, Comerford turned on the jets in the second half of the swim, throwing down splits of 25.72 and 25.50 to come home in 51.22 for a blazing fast 1:41.70. Haughey was near Comerford the whole race but couldn't match her middle 100 and ended up second in 1:42.44. Both swimmers are far and away the fastest in the country so far.
Comerford is coming off of a breakout summer that saw her win five gold medals at the 2017 World Championships, including a brief tenure as the American record holder in the 100 free courtesy of a 52.59 leadoff leg in the final of the 400 free relay. And the Louisville junior hasn't missed a beat getting back to NCAA competition, turning heads at the SMU Classic with fast early season swims.
The junior would go on to win the 100 free in 47.00 and the 500 in 4:39.24 on the second of the meet, and while Louisville placed second at the meet by just half a point to USC, Comerford's performances certainly have energized the Cardinals heading into the 2017-18 season. You can see full results from Day One and Day Two to see all the swims from the meet.
Congratulations Mallory Comerford on earning Swimming World's Performance of the Week!
Special Thanks to LumaLanes for sponsoring Swimming World's Performance of the Week.
Learn More About LumaLanes