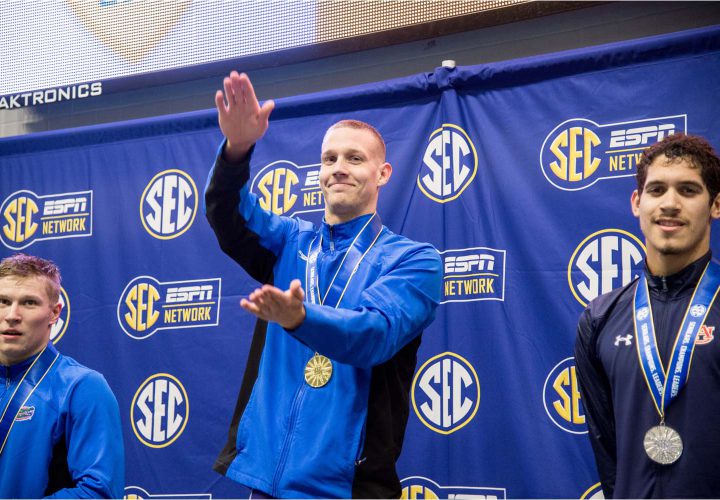 Photo Courtesy: Thomas Campbell/Texas A&M Athletics
This week's Performance of the Week, sponsored by LumaLanes, goes to Caeleb Dressel for his stunning American and NCAA record in the 200 IM at the SEC Swimming & Diving Championships.
Dressel had arguably one of the most unexpected (and successful) weekends in college swimming history that wasn't at the NCAA Championships, setting two American and NCAA records in what can best be described as Dressel's "off" events while also besting his own meet record in the 100 free and helping Florida to their sixth SEC team championship title.
But it was his first individual swim of the weekend, the 200 IM, that defined the weekend that Dressel put together at SECs (and hinted at what could be possible at NCAA's in March). His 1:38.13 completely smashed David Nolan's existing American and NCAA record of 1:39.38, which was at the time the only swim in history under 1:40.
In an interview following the race, Dressel said getting that record is something he has wanted to do "for while now," saying he had his eyes on the record back to his time in high school. Dressel has always said he chose Florida, traditionally seen as a high volume program that is a haven for IM and distance swimmers, because he didn't want to be labeled as just a sprinter.
And while that is the fastest any college swimmer has gone in that event in history by more than a second, it is also more than likely the last time we'll see Dressel swim the event this season, given it is on the same day as the 50 free in the NCAA program. Now the owner of five short American records (he swam the fastest 100 breast in history just a day later), Dressel is making it very clear that his talents lie in much more than just the sprints.
Congratulations Caeleb Dressel on earning Swimming World's Performance of the Week!
Special Thanks to LumaLanes for sponsoring Swimming World's Performance of the Week.
Learn More About LumaLanes