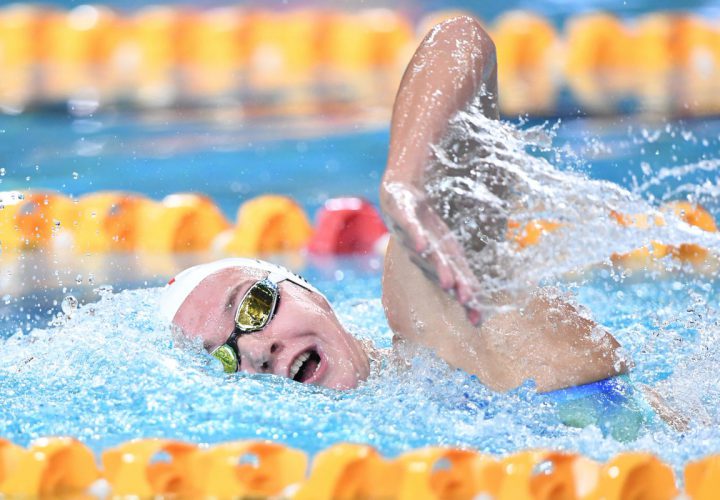 Photo Courtesy: Delly Carr, Swimming Australia, Ltd.
This week's Performance Of The Week, sponsored by LumaLanes, goes to Ariarne Titmus for her Australian record performance in the 400 free at the Queensland State Championships in Brisbane.
The 17-year-old Titmus shattered the two year old national record of 4:03.34, becoming the first Australian woman under 4:03 with a 4:02.86. The previous record had belonged to Jess Ashwood, who has set it at the 2015 World Championships and was in the final in Queensland where she finished second behind Titmus in 4:09.65. You can see Titmus' splits below:
  1 Titmus, Ariarne        17 StPetersWestern   4:12.56    4:02.86  
    r:+0.80  28.00        57.90 (29.90)
        1:28.63 (30.73)     1:59.43 (30.80)
        2:30.29 (30.86)     3:01.34 (31.05)
        3:32.48 (31.14)     4:02.86 (30.38)

The young swimmer's time would have put her third in last summer's final at this past summer's World Championships in Budapest, where Titmus herself finished fourth in 4:04.26. Titmus had already made waves this summer when she qualified for her first international team at the age of 16 in the 400 and 800 freestyles. What is most amazing about the swim is that Titmus is likely still in heavy training, with Aussie Commonwealth Trials set for the end of February.
Congratulations Ariarne Titmus on earning Swimming World's Performance of the Week!
Special Thanks to LumaLanes for sponsoring Swimming World's Performance of the Week.
Learn More About LumaLanes