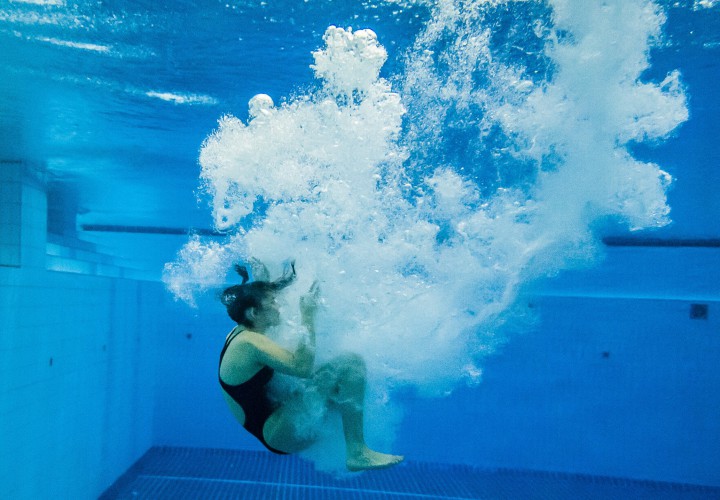 Photo Courtesy: Peter H. Bick
By Chris Balbo, Swimming World College Intern.
Swimming and diving have been two sports rolled into one at the NCAA level for many years dating back to 1924, the inception of the first NCAA Championships. However, these sports could not be more different. Swimming is based on time– how fast can you get from one side of the pool to the other. Diving is far more subjective– based on judges with a scoring and point system.
So why does the NCAA continue to lump these two sports together? Yes, they do both involve water, but do they have water polo and synchronized swimming compete together? No. Like swimming and diving, these two sports have different scoring methods and goals.
At most other levels of the sport of swimming – summer league, high school, club and professional – swimming and diving are separate entities. There's USA Swimming and USA Diving– two separate governing bodies. Do not get me wrong– diving is just as important of a sport as swimming. In fact, diving is often more fun to watch, but shouldn't it at least be questioned why the two sports are a conglomerate at the NCAA level?
It is valid to note that diving rosters are considerably smaller, have fewer events, and frankly have a smaller pool of adolescent competitive divers than swimmers. Combining the two teams saves money for universities in supporting two separate non-revenue sports.
In the last few years we have also seen an increase in swimming and diving program cuts. Some schools, such as the College of William and Mary, have cut their diving team to keep their swim programs afloat. William and Mary goes into most dual meets with a deficit of 0-32 based on diving points alone. It is possible for them to "out-swim" a team but lose based on diving.
They bear the same disadvantage as they begin their Colonial Athletic Association (CAA) Conference Championships. It can be argued that W&M has an advantage of allowing two extra swimmers to their roster instead of bringing divers, but divers are still 1/3 of a swimmer allowing for more diving points to be scored. Regardless of this deficit, William and Mary has been able to win three consecutive CAA titles for the men and two consecutive titles for the women (Being a W&M swimmer, there may be some bias in this analysis).
Although swimming and diving are different sports, separating the two would most likely do more harm than good. Since both are non-revenue sports, it is likely that diving (due to a smaller roster size) would be eliminated from NCAA competition. A separate diving program could dwindle and not receive adequate funding from athletic departments. Diving could become akin to synchronized swimming– since there are few NCAA synchro teams, NCAA teams compete against college intramural teams for competitions as well as at Nationals.
Diving is a unique sport that should be it's own sports entity and not be lumped with swimming. In defense of divers, it is never called "diving and swimming". Swimming and diving are two completely different animals. Competitions and meets should not compare the abilities for two different skill sets and sports in one competition such as a conference championship or NCAAs.
All commentaries are the opinion of the author and do not necessarily reflect the views of Swimming World Magazine nor its staff.