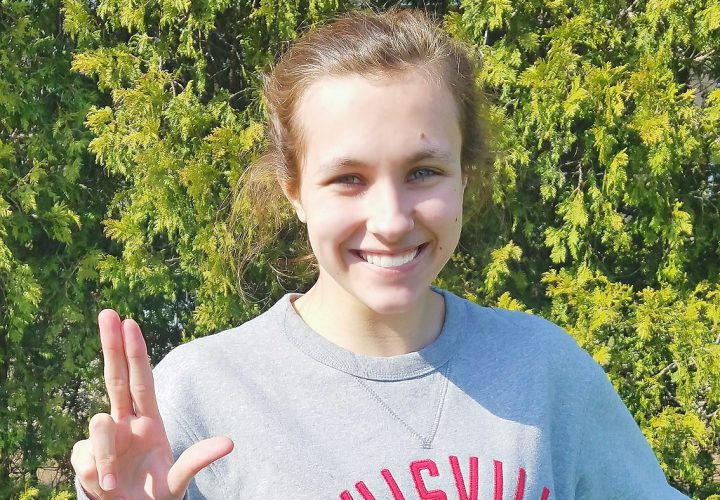 Agon is the proud sponsor of all high school coverage (recruiting, results, state championships, etc.) on SwimmingWorld.com. For more information about Agon, visit their website AgonSwim.com.
To report a college commitment, email HS@swimmingworld.com. Join Swimming World's Watch List
NEW COMMIT: Versatile IMer Abby Hay has verbally committed to swim for the University of Louisville as a member of the Class of 2023. Hay hails from Mayfield Heights, OH, where she swims for the Lake Erie Silver Dolphins and is a junior at Hawken High School.
At this year's Ohio High School Division 2 Championships Hay swam the butterfly leg (23.91) of the school's state record setting 200 medley relay before finishing runner up in the 200 IM (2:01.26) and 100 butterfly (55.12). Hay ended the night on top of the podium again, splitting a 51.15 on Hawken's state record setting 400 freestyle relay.
Hay is a great addition to the Cards, excelling the most in IM, but with potential in stroke events as well. Her top times include:
400 IM 4:12.60
200 IM 2:00.44
200 Fly 1:58.86
100 Fly 54.96
200 Breast 2:17.00
100 Breast 1:03.98
At February's ACC Championships Hay's lifetime best 400 IM time would have just snuck her into the A final. Freshman Carley Lowe (4:15.88) was the Cards' highest finishing underclassmen. Based on their current times, the duo should make great training partners for two years when Hay gets to Louisville. Hay would also be a 200 butterfly B finalist and just on the bubble of a second swim in the 200 IM.
She told Swimming World,
"I am beyond excited to announce my verbal commitment to continue my academic and athletic careers at the University of Louisville! I fell in love with the team and coaches there and I can't wait to officially be a Cardinal! LET'S GO CARDS!!!"