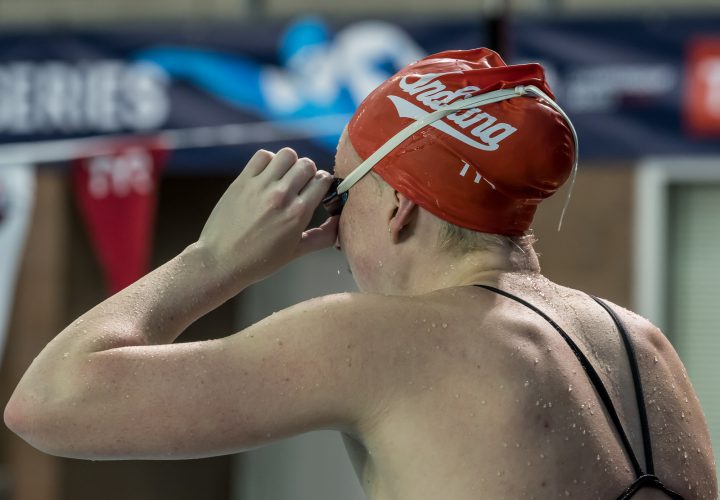 Photo Courtesy: Peter H. Bick
After some fast swims in the 1500 on night one, the second finals session of the 2018 TYR Pro Swim Series from Columbus, Ohio will feature the 100 Fly, 400 Free, 200 Breast and 100 Free.
Michael Andrew and Margo Geer led the way this morning after posting the fourth fastest 100 Free times by Americans in 2018. Kelsi Dahlia, Leah Smith, Felix Auboeck and Justin Ress, all familiar names to the TYR Pro Swim Series circuit, earned top seeds in the 100 Fly, 400 Free and 100 Free.
Annie Lazor and Lousiville's Evgenii Somov posted the top times in the 200 breaststroke but will have heavy challenges from the likes of Lilly King, Chase Kalisz, Reece Whitley and more.
Heat Sheet
Live Results
Stream
Women's 200 Breast
Lilly King swam a season-best 2:24.83 to win the women's 200 Breast. Off to an early lead, she was able to win the event by nearly two seconds. Annie Lazor was next in 2:26.55, bumping her into the top ten rankings for Americans so far this year.
Louisville's Mariia Astashkina posted a 2:27.87 to grab third place while Club Wolverine's Miranda Tucker was fourth in 2:28.22. Teammate Lauren James was seventh with a swim of 2:32.57.
15-year-old Anna Keating swam America's third-fastest 16-and-under 200 Breast of the season in 2:31.44. Fellow age grouper Kaki Christensen of Chelsea Piers Aquatics was next in 2:32.00. Kentucky's Bailey Bonnett was eighth in 2:34.19.
 Event 7  Women 200 LC Meter Breaststroke
=========================================================================
        World: W 2:19.11  8/1/2013  Rikke Moeller Pedersen, DEN
     American: A 2:19.59  8/2/2012  Rebecca Soni, USA Olympic Team
    U.S. Open: O 2:20.38  7/11/2009 Rebecca Soni, Trojan
     Jr World: J 2:19.64  8/30/2015 Viktoria Gunes, Turkey
     Pro Swim: P 2:21.41  2016      Yuliya Efimova
    Name            Age Team              Prelims     Finals  FINA Points
=========================================================================
                            === A - Final ===                            
 
  1 Lilly King       21 Indiana  Swim Te  2:28.42    2:24.83   886  
    r:+0.68  32.07      1:09.31 (37.24)
        1:47.21 (37.90)     2:24.83 (37.62)
  2 Annie Lazor      23 Una Mvn           2:28.10    2:26.55   855  
    r:+0.71  34.08      1:11.69 (37.61)
        1:48.91 (37.22)     2:26.55 (37.64)
  3 Mariia Astashki  19 Univ Louisville   2:28.31    2:27.87   832  
    r:+0.70  34.65      1:12.45 (37.80)
        1:50.14 (37.69)     2:27.87 (37.73)
  4 Miranda Tucker   21 Club Wolverine    2:29.75    2:28.22   826  
    r:+0.65  34.03      1:11.10 (37.07)
        1:49.51 (38.41)     2:28.22 (38.71)
  5 Anna Keating     15 Machine Aquatics  2:32.08    2:31.44   775  
    r:+0.72  34.56      1:13.10 (38.54)
        1:52.52 (39.42)     2:31.44 (38.92)
  6 Kaki Christense  18 Chelsea Piers Aq  2:31.33    2:32.00   766  
    r:+0.72  33.96      1:12.98 (39.02)
        1:51.99 (39.01)     2:32.00 (40.01)
  7 Lauren James     21 Univ Louisville   2:33.14    2:32.57   757  
    r:+0.67  35.21      1:12.91 (37.70)
      2:32.57 (1:19.66)                    
  8 Bailey Bonnett   19 Kentucky Aquatic  2:32.20    2:34.19   734  
    r:+0.67  35.69      1:14.60 (38.91)
        1:54.31 (39.71)     2:34.19 (39.88)