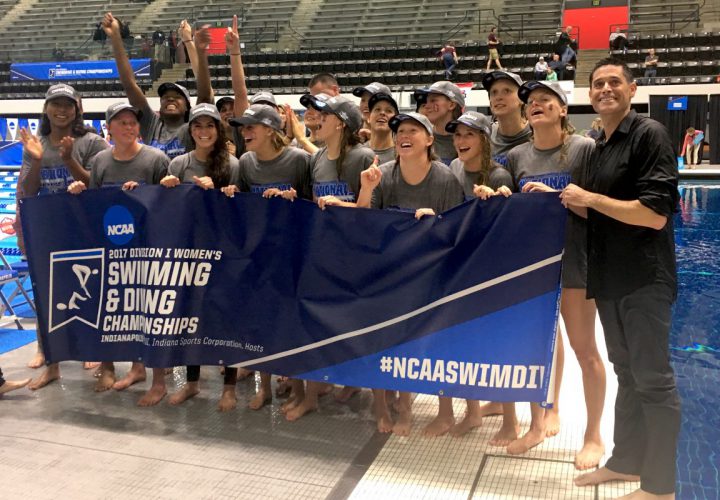 Photo Courtesy: Caroline Kosciusko
NCAA DI editorial coverage is proudly sponsored by Adidas. Visit adidasswimming.com for more information on our sponsor. For all the latest coverage, check out our event coverage page.
CLICK FOR FULL RESULTS
By Dan D'Addona.
Stanford's first national championship in 19 years was expected, but it didn't become real until the final relay.
As senior Lia Neal dove in for the anchor leg of the 400-yard freestyle relay, following Simone Manuel, Katie Ledecky and Janet Hu, the moment began to hit the Cardinal.
It hit the relay swimmers screaming for Neal, it hit the rest of the team watching, it hit coach Greg Meehan — and it hit Neal, who was overcome with emotion as she touched the wall in an American and NCAA record to put a stamp on Stanford's weeklong dominating performance at the NCAA Division I women's championships on Saturday in Indianapolis.
"It feels surreal," Neal said. "This is the perfect ending. Especially to win for the first time in 19 years just goes to show how strong of a program we have. That (relay) was my last swim collegiately. I am very glad I got to end my career with a relay because relays are my favorite. Being able to share the experience with my teammates, that is the most fun part about swimming."
Neal was the cornerstone of this team, committing to Stanford in Meehan's first recruiting class. That made the moment even more special for her coach.
"It hit me during the last relay. We really wanted to win that last relay for Lia — give her a little victory lap. There is no better moment for a senior than to win your last race t the NCAA championships. That is a storybook ending," Meehan said. "She set this thing in motion five years ago when she committed to our program as an Olympian out of high school. Everything just rolled from there. She legitimized our program in that moment."
And legitimized the national title the second she hit the water for the anchor leg of the final relay.
"I was brought to tears the moment she dove in," Ella Eastin said. "Lia means a lot to me. She is everything to this program and a lot of the reason a lot of us are here. She built this from the ground up with Greg."
Manuel surged to an American and NCAA record in the 100-yard freestyle, fellow Olympic gold medalist Ledecky coasted to a meet record in the 1,650 freestyle and four-time national champion Eastin held off the field to win the 200 butterfly.
After finishing second last year in heartbreaking fashion, Stanford won 11 of the 21 events and finished with 526.5 points a stunning 160.5 points ahead of runner-up Cal (366). Texas A&M (292.5) followed in third, its highest finish in school history. Georgia (252.5) was fourth and Texas (252) was fifth. Rounding out the top 12 were Louisville (194.5), NC State (194), Indiana, USC (176) and Minnesota (168), Michigan (159) and Virginia (149).
No one was catching the Cardinal.
"That is the reason I came back, to get a national championship with this team," Manuel said. "It is a surreal feeling to see your hard work pay off. We had so many great swims after great swims. We grind together and we love each other. It is really amazing to share this.
"I wanted to do well for the team, but also wanted to do really well in the 400 free relay for Lia. I started crying at (her) 75 mark. We are great friends and we spend a lot of time with each other. There are so many emotions that go along with it, but I am sure we will reminisce about this for a long time."
Manuel broke her own American and NCAA record to win the 100 freestyle in 45.56. Neal finished fourth (46.76) in the final individual race of her career. Manuel won the 50 freestyle (21.17) and Neal was ninth (21.65).
"I think the 45.5 has been there all along," Manuel said. "Sometimes you are working hard and the results don't show, and that was the 50 and 200 for myself. I was a little angry going into that race and I put all of my emotions into that one. To have (my teammates) cheer for me and believe in me was really exciting."
Ledecky won the 1,650 in 15:07.70, breaking the meet record. Teammate Megan Byrnes was third (15:50.87) and Leah Stevens was fourth (15:52.36).
"We knew we could come in and do something special, for sure. That is what we worked for every day," Ledecky said. "It is just a really special group to be a part of."
Ledecky also won the 500 freestyle (4:24.06) and tied with Louisville's Mallory Comerford for the 200 freestyle title in 1:40.36.
"Finishing three in the top four after not having anyone score in the distance events is something that Katie is bringing to our program, and it is pretty special," Eastin said.
Eastin won the 200 butterfly in 1:51.35, her second win of the meet after her American record in the 400 IM (3:57.57) on Friday and was second in the 200 IM (1:52.27).
The 800 freestyle relay (6:45.91) and 400 freestyle relay (3:07.61) bookended the meet in an American and NCAA records, while the 400 medley relay won in 3:26.35.
"I was really honored that (Greg) put me on (the last relay)," Ledecky said. "Every stroke, I was saying, 'for Lia, for Lia.' She means so much to all of us."
But it was a group performance. Hu and Ally Howe each had multiple All-American finishes and were key relay swimmers. Kassidy Cook took third in 3-meter diving and earned two All-American finishes. Plus, Byrnes, Allie Szekely and Kim Williams made consolation finals.
Everyone contributed, and it wasn't just current swimmers.
"It was really cool to see our alumni in the stands giving that physical, tangible support," Neal said. "It was really cool to see these legends cheering us on."
Plenty of those alumni swimmers were in attendance. Maya DiRado, Elaine Breeden, Felicia Lee, Tara Kirk, Dana Kirk sisters were up with the Stanford faithful, covered in red and some even wearing tree hats.
"It has been especially exciting coming off the success in Rio. Watching the coverage of the 2016 Olympics, the thing I took away most was how tight-knit the Stanford group seemed," said Breeden, a former Olympian. "That is just reflective of the culture we build at Stanford. That is why we have the biggest cheering section by far. You'd think this meet was happening in the Bay Area for how many Stanford fans and alumni we have here. We are thrilled to be here and I wouldn't have missed it."
That generational feel to the program is not lost on the current swimmers.
"We were swimming for them today, the 19 years of swimmers that didn't win a national championship. They won that just as much as we did," Ledecky said. "Knowing that there is this big legacy and opportunity really got us going from the start of September. I couldn't be happier to be a part of this group."
The group that return Stanford to a national championship team will forever have that bond.
"It is indescribable the feeling that you get knowing that you are part of something now, but was incredible then and incredible in the future," Eastin said.