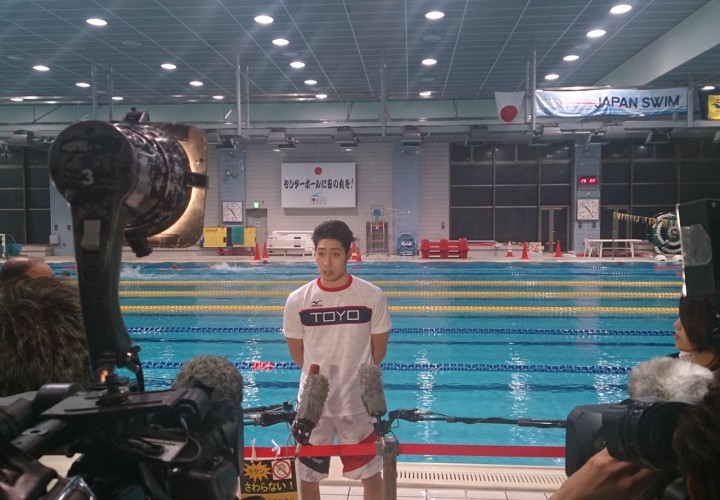 TOKYO – The 32 athletes who will represent Japan at next month's short course world championships are wrapping up a training camp in Tokyo that featured a comment from Asian Games star Kosuke Hagino that he's going after Ryan Lochte's 400 IM world record.
In meeting with the media, Hagino said "You have to be especially aware of your technique, especially the turns" in short course racing, but was optimistic that he can challenge Lochte's four-year-old world mark of 3:55.50. Hagino posted a 3:56.48 last year in the event, but will go into worlds without having raced a short course 400 IM in 2014. He'll be pushed by countryman Daiya Seto, the reigning world champion in both short course and long course.
Below are a few photos from the media day at the training camp, featuring Hagino, Ryosuke Irie and Kanako Watanabe.
The training camp was full of smiling athletes, as judged by these photos.
Below is Japan's full roster for the short course world championships.
Men
Tsubasa Amai
Takuro Fujii
Kosuke Hagino
Ryosuke Irie
Yuki Kobori
Yasuhiro Koseki
Katsu Nakamura
Yuta Oshikiri
Masato Sakai
Reo Sakata
Yuki Sendai
Daiya Seto
Shinri Shioura
Hiroki Shirai
Syogo Takeda
Kohei Yamamoto
Women
Sayaka Akase
Asami Chida
Rino Hosoda
Chihiro Igarashi
Rie Kinfuji
Yayoi Matsumoto
Yasuko Miyamoto
Miiyu Nakano
Reina Nishiwaki
Shiho Sakai
Sakiko Shimizu
Satomi Suzuki
Miho Takahashi
Aoki Tomomi
Miki Uchida
Kanako Watanabe