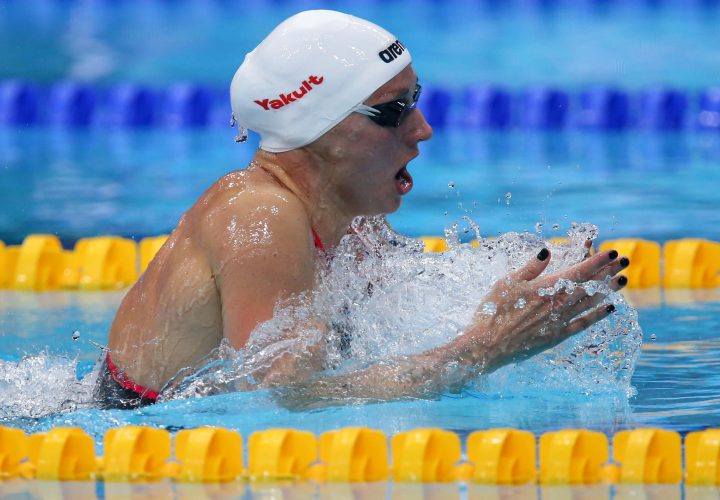 After a week that included a public split from her husband/coach, Katinka Hosszu was back in the water competing against some of the biggest names in swimming.
She opened up the 2018 Speedo Grand Challenge in Irvine, California, by setting a meet record in the 200-meter IM.
The Hungarian finished in 2:10.87, easily holding off Louise Hansson (2:14.40).
Hosszu, who has been in the news after a public breakup with her husband/coach, also won the 400 IM in 4:39.51.
In the men's 200 free, Andrew Seliskar (1:49.24) edged former Cal teammate Ryan Murphy (1:49.57). Murphy won the 200 back in a meet record 1:55.70.
Seliskar also won the 100 fly in a meet-record time of 52.83. Tom Shields was second (53.41).
Kathleen Baker set a meet record to win the women's 200 back in 2:10.32, crushing the field — that included Amy Bilquist and Hosszu — by four seconds.
In the 100 breast, Jorie Caneta won in 1:09.22, in a close race ahead of Ruta Meilutyte (1:09.63) and Riley Scott (1:09.99). In the men's race, Josh Prenot won in 1:01.72 and Will Licon tied for first.
Abbey Weitzeil won the 50 free in 25.11, holding off Anika Apostalon (25.52), Bilquist (25.64) and Hosszu (25.67).
In the men's 200 IM, Ryosuke Irie on in 2:01.59, nearly a second ahead of Licon (2:02.53).
Claire Tuggle, 13, won the 400 free in 4:16.45, holding off Sarah Gibson (4:16.62).
Vlad Morozov won the 50 free in 21.98 ahead of Michael Jensen (22.61).
Katie McLaughlin won the 200 free in 1:59.08) ahead of Tuggle (2:00.69) and Hansson (2:00.81).
Jacob Heidtmann won the 400 IM in 4:20.76. Jordan Wilimovsky won the 400 free (3:51.38).
Hellen Moffitt won the women's 100 fly in 58.78 ahead of Hansson (58.82) and McLaughlin (59.02).
There were plenty of fast races in the 7-12 age group, too.
On Friday, Asia Kozan won the girls 7-12 100 free in 1:01.74. Daniel Verdolaga won the boys race (1:00.44). Angelica Benitez won the 50 breast (36.56). Verdaloga won the boys race (34.19). Kozan won the 100 back (1:08.91), while Nate Teeraniti won the boys race (1:08.35).
On Saturday, Verdaloga won the 100 breast in 1:15.22 and Kozan won the girls race (1:17.20) in a meet record. Teeraniti won the 50 back in 31.38. Lily Neumann won the girls 50 back in 31.67. Verdalonga won the 100 fly (1:06.55) as did Kozan (1:04.15), in another girls meet record.