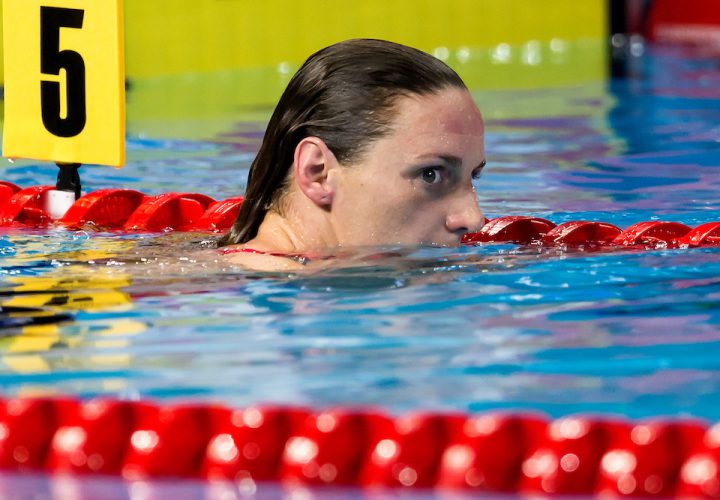 Photo Courtesy: Andrea Staccioli / Insidefoto / Deepbluemedia
Four-time Hungarian Olympian Katinka Hosszu announced via Facebook today that she and her coach/husband, Shane Tusup, will be splitting ways after attempting to work through personal and professional differences.
In her post, Hosszu explained,
"I would like to get ahead of the gossip, sadly Shane and I haven't been able to resolve our personal issues, therefore we are no longer working together. I'm still preparing for the upcoming competitions while looking at my options for my support team."
The two began dating while swimming at the University of Southern California, before tying the knot in 2013. In December, Hosszu posted on Facebook that she and Tusup were experiencing a difficult time in their relationship and filed for divorce in February, but followed that with a Facebook post in March captioned "you and me against the world."
Hosszu has not competed since the 2017 European SC Championships, where she took home six gold medals (50, 100, 200 back & 100, 200, 400 IM). She is expected to return to competition this coming weekend in California at the 2018 Speedo Grand Challenge, where she is listed on the psych sheet for the 50 & 100 free, 50, 100 & 200 back, and 200 & 400 IM.
Tusup served as Hosszu's coach from 2012 through the 2017 World Championships in a time where Hosszu grew rapidly as a swimmer. Under Tusup's tutelage, Hosszu blasted her way through Hungarian National Records and World Records alike, at one time becoming the first woman to own all five individual medley world records.
Hosszu's training came under scrutiny in 2015, when commentator Casey Barrett penned an article titled "Are Katinka Hosszu's Performances Being Aided?"
Following the publishing of the article, Hosszu sued Barrett and Sports Publications International for defamation, but the suit was dismissed on August 12, 2016 by the Arizona District Court. She appealed, but the United States Court of Appeals for the Ninth Circuit affirmed the dismissal in a 2-1 majority vote.
The 2016 Rio Olympics saw Hosszu achieve a dream that she had not been able to achieve at her previous three Olympics: a spot on the Olympic podium. Hosszu collected a total of four medals (three gold, one silver), posting new Olympic and World Records in the process.
Many in the sport of swimming have questioned Tusup's intense training methods, while others admired his emotional reactions to her races. Their relationship was covered by several mainstream media sites throughout the 2016 Rio Olympics.
The Straits Times and NBC Sports contributed to this report.