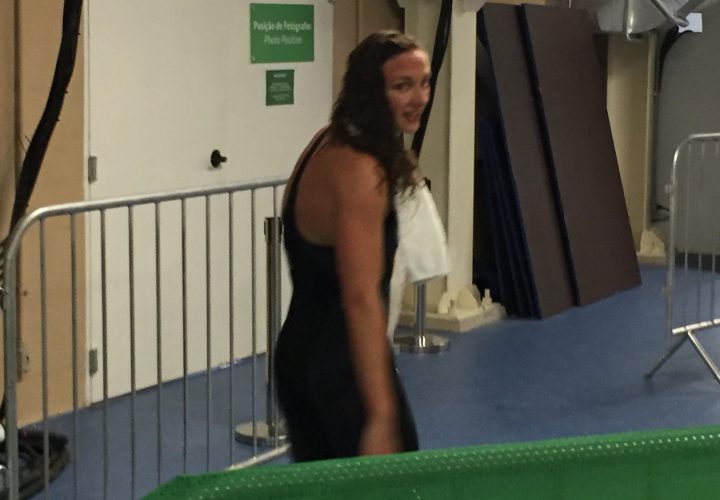 Editorial Coverage Sponsored By FINIS
Katinka Hosszu did not compete in this afternoon's 200 fly prelims at the Olympic Games in Rio. Hosszu has already won two gold medals and will be favored for another in tonight's 200 IM final.
According to the official meet timeline, only 50 minutes will separate the 200 fly semifinal from the 200 IM final in the night's session, and Hosszu presumably did not want to hurt her chances in an event in which she holds the world record. Hosszu already won gold in the 400 IM in a world record-time of 4:26.36, and she added a second gold Monday night in the 100 back (58.45).
She has had some success in the 200 fly during her career, including NCAA titles and a bronze in the event at the 2009 World Championships in Rome, but her focus aside from IM has shifted to backstroke over the past four years.
Hosszu set an Olympic record in the 200 IM prelims Monday, posting a 2:07.45, and her world record in the event stands at 2:06.12. She qualified second for the final behind Great Britain's Sinead-Marie O'Connor.
With the scratch, Hosszu will give up any chance of matching Shane Gould as the only female swimmer to ever win five individual medals in one Olympics. Gould won the 200 and 400 free and 200 IM at the 1972 Olympics in Munich and also added a silver in the 800 free and bronze in the 100 free.
Other female swimmers have surpassed that total—most recently in Beijing, when Natalie Coughlin captured six medals—but those hauls included relays. Hosszu will likely compete on Hungary's 800 free relay Wednesday, but the Hungarians are doubtful to medal.