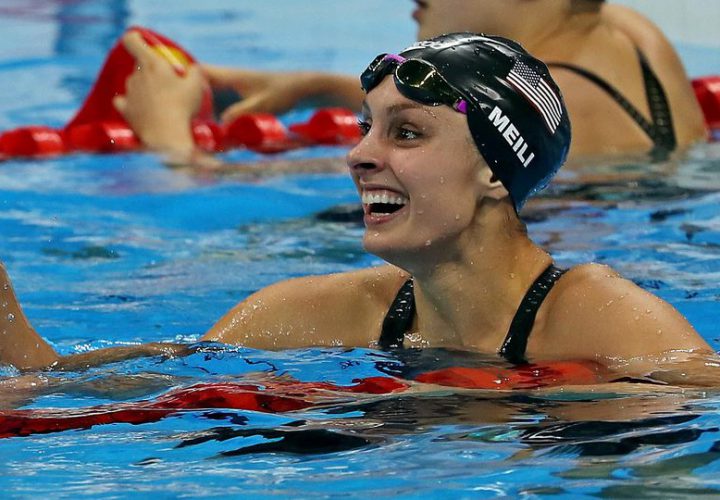 Photo Courtesy: Eric Seals-USA TODAY Sports

Editorial Coverage Sponsored By FINIS
The United States dominated the competition this morning and took the top seed for finals in the women's 4×100 medley relay. Olivia Smoliga posted a 59.57 on the backstroke leg. Katie Meili had a very safe start and still registered a blistering 1:04.93. Kelsi Worrell (56.47), and Abbey Weitzeil (53.70) brought the team home to a 3:54.67.
"It's on a relay—it's like magic!" Meili said. "The team's been killing it—literally, crushing it—so it wasn't hard for us, especially after last night, to get up. There's just so much energy, excitement, joy—it's pretty easy to get up and race."
For Worrell, this was her shot at redemption after finishing three one-hundredths out of a spot in the final of the 100 fly Sunday.
"It's been a roller coaster," she said. "Definitely wasn't pleased with my fly swim, but I was able to really be thoroughly happy for every single swim and really enjoyed the whole meet. So thankful to be here."
Kylie Massee led off the Canadian relay in a new 100 backstroke national record of 58.66, a tenth faster than she swam to win the bronze in the 100 back Monday. She was followed by Rachel Nicol (1:06.97), Noemie Thomas (57.66), and Taylor Ruck (53.51). The team posted a 3:56.80 to win the first heat and return to finals in second.
Denmark's team of Mie Nielsen (59.48), Rikke Moller Pedersen (1:06.88), Jeanette Ottsen (57.38), and Pernille Blume (53.24) touched in 3:56.98 for third overall.
The Russian team as fourth this morning in 3:57.44 ahead of the Australians in 3:57.80. The Chinese (3:58.23), Italians (3:59.09), and British (3:59.34) also earned lanes in the final.
Full results are available here.