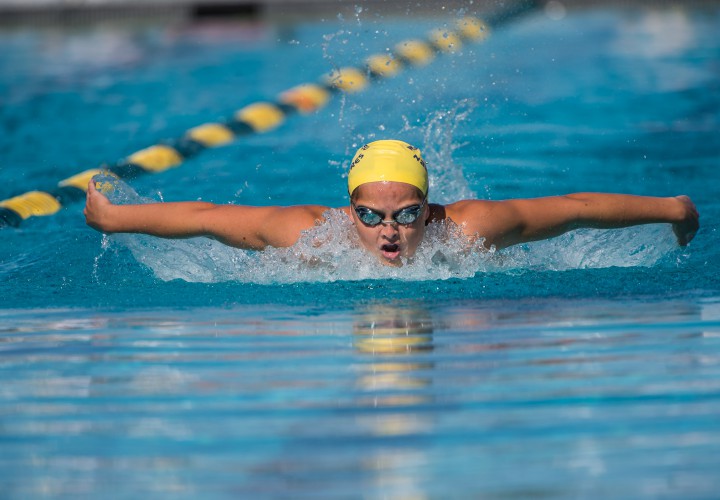 Photo Courtesy: Peter H. Bick
Agon is the proud sponsor of all high school coverage (recruiting, results, state championships, etc.) on SwimmingWorld.com. For more information about Agon, visit their website Agonswim.com.
Already the national independent school record holder, Katie McLaughlin of St. Margarita took possession of the entire national high school record in the 100-yard fly at the CIF Southern Section Division 1 Championships.
McLaughlin clocked a time of 51.53 to break her national independent school mark of 51.78 from last year.
That effort also downed the overall mark of 51.70 set by Beata Nelson for Verona/Mount Horeb High in Wisconsin last November.
Comparative Splits
2015: 24.35, 51.53 (27.18)
2014: 24.49, 51.78 (27.29)
McLaughlin managed to get better at both halves of her race to down the record.
That's just the second time McLaughlin has cleared 52 seconds as she typically focuses on long course training while with the Mission Viejo Nadadores.
National Records for High School Are Pending Application Verification.  Click Here to Learn More: http://www.niscaonline.org/AwardPrograms/AASwimming.aspx