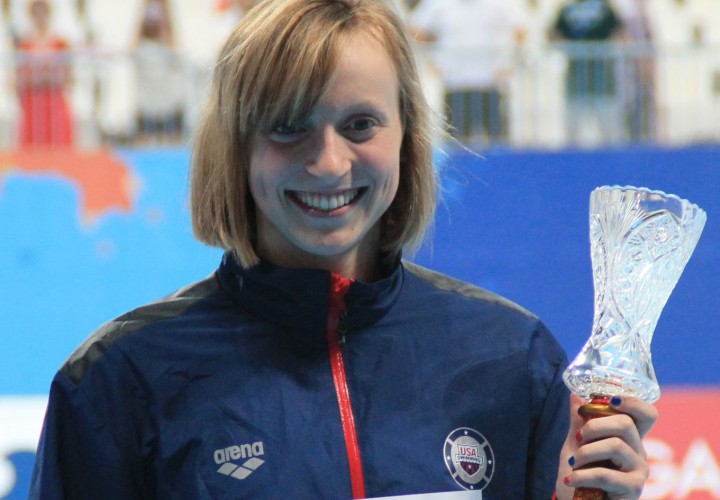 Photo Courtesy: Maria Dobysheva
Unprecedented. Unthinkable.
That's how CBS reporter Norah O'Donnell describes what Katie Ledecky did this year in a piece for the CBS This Morning "Pushing the Limits" segment that highlights extraordinary accomplishments. O'Donnell goes on to call Ledecky "the greatest athlete in the world," something Ledecky brushed off in her typical modest style.
"I don't really think of it in those terms," she said.
Ledecky was the first person in history to win the 200, 400, 800 and 1500 freestyles at a world championships last month in Russia, which has since been dubbed "the Ledecky Slam." She also added a gold medal in the 800 free relay to bring her world championship medal tally to nine. (The segment incorrectly states that Ledecky "won every single race in the freestyle category" in Russia.)
There's footage of Ledecky as a 6-year-old in a freestyle race in the segment, and though she doesn't appear to be in line to win that race, she was all smiles afterward.
In keeping with the segment's theme, coach Bruce Gemmell says the way Ledecky pushes her limits is through training mostly with male swimmers. She beats them regularly, Gemmell says.
The segment goes on to comment that Ledecky could win seven medals at the Rio Olympics, which would require her to swim on all three relays and broaden her horizons into the true sprint events. Ledecky hasn't ruled out swimming the 100 freestyle at the Olympic Trials for a chance to be on the 400 free relay, which would help her chances for a record medal haul.
O'Donnell also challenged Ledecky to a 25-yard race in which Ledecky could only swim underwater while O'Donnell swam freestyle. Ledecky won handily.
Click here to watch the Ledecky-O'Donnell race