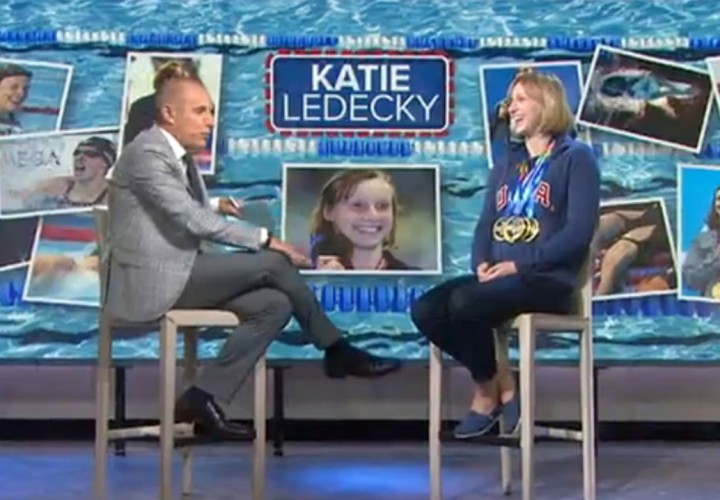 Katie Ledecky stopped by Rockefeller Plaza in New York City today for her first Stateside interview after what most would call a stellar week at the FINA world championships in Russia, talking with Matt Lauer on the "Today" show on NBC.
Right out of the gate, Ledecky downplayed her performances, saying "I wouldn't say (the races were) perfect, but it was pretty the best week I could have asked for."
Ledecky became the first person to win the 200, 400, 800 and 1500 freestyles in one world championship meet and set world records in the 800 and 1500. She left the meet with five gold medals, the most of anyone at the meet and one of the highest tallies of any female at a world championships.
Now she's back home getting ready for the push toward the Rio Olympics, where she could be the second woman after Debbie Meyer in 1968 to win the 200, 400 and 800 in one Olympic Games. (There is no 1500 free for women in the Olympics, an omission that continues to irk swimmers, coaches and fans.)
"It's not every day you can say you've done something nobody's done before," Ledecky said. "I've been enjoying it, and at the same time, looking forward to this next year."
Lauer brought up the topic of Ledecky's stamina in the sport, and whether she can continue to put in the grueling amount of time that distance swimmers need to be at their best. At 18 years old, she could have a career that lasts 10 more years. The woman she's succeeding as the queen of distance swimming, Janet Evans, was 24 years old when she swam in her final Olympics.
"I'm looking at new ways I can improve with my coach, Bruce Gemmell," Ledecky said. "I hope I can continue to improve."
Before speaking with Lauer inside the studio, Ledecky was outside among cheering fans and talked with Angie Goff from NBC affiliate WRC in Ledecky's hometown of Washington, D.C.
ICYMI: Watch Angie Goff chat with Olympic gold medalist Katie Ledecky!

Posted by NBC Washington on Thursday, August 20, 2015