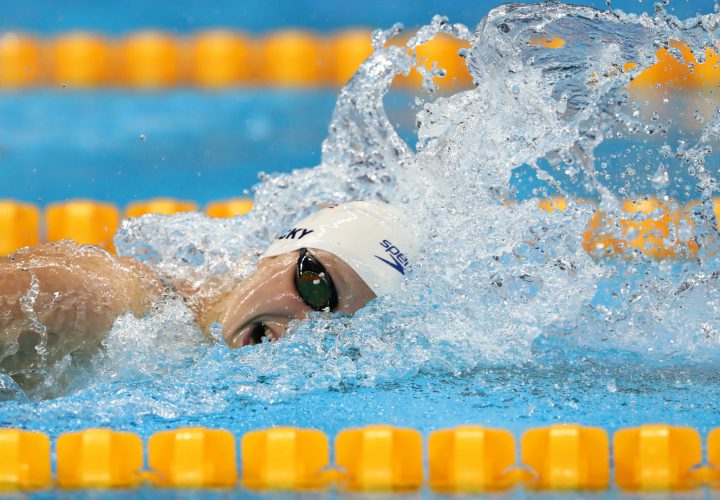 Photo Courtesy: Rob Schumacher-USA TODAY Sports

Editorial Coverage Sponsored By FINIS
In this morning's 200 freestyle prelims Katie Ledecky cruised through the opening 50 meters, fresh off her 400 freestyle world record. She turned it on in the back half of the race and led the way through to semifinals with a 1:55.01.
Australia's Emma McKeon stayed close to Ledecky and will head to semifinals in second after posting a 1:55.80.
With a new world record and Olympic gold in tow, Sarah Sjostrom put herself into contention for another medal. The Swede recorded a 1:56.11 for the third spot tonight.
Charlotte Bonnet of France was just behind Sjostrom and snagged fourth in 1:56.26.
Italy's Federica Pellegrini, the two time World Champion in the 200 freestyle, swam a very reserved race and pounced at the end to secure the fifth spot in 1:56.37. China's Duo Shen will be sixth in 1:56.52.
Michelle Coleman of Sweden touched in 1:56.54 for seventh. Yanhan Ai of China got out to a very quick start in the opening circle seeded heat and wound up eighth overall in 1:56.77.
Hong Kong's Siobhan Haughey swam in a non-circle seeded heat but earned a semifinals swim with her 1:56.91. Australia's Bronte Barratt also secured a second swim with her 1:56.93.
Russia's Veronkia Popova (1:57.08), Missy Franklin of the United States (1:57.12), and Canada's Katerine Savard (1:57.15) finished 11th through 13th.
Manuella Lyrio of Brazil (1:57.28), Femke Heemskerk of the Netherlands (1:57.68), and Canad's Brittany Maclean (1:57.74) will complete the semifinals tonight.