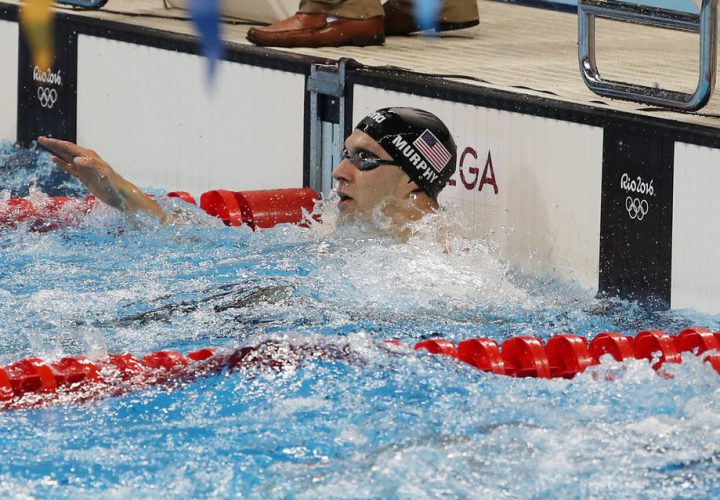 Photo Courtesy: Rob Schumacher-USA TODAY Sports

Editorial Coverage Sponsored By FINIS
By David Rieder.
When the women's and men's 100 backstroke finals went off at the Olympic Aquatic Center late Monday night, the competitors representing United States had some lengthy history to live up to—they had won five straight Olympic golds in the men's race and three on the women's side.
Only one year ago, U.S. backstroke was on life support.
At the World Championships in Kazan, Missy Franklin and Matt Grevers both entered as the reigning World and Olympic champions in the event, but Grevers had to settle for a bronze medal behind breakout Australian Mitch Larkin and France's Camille Lacourt. On the women's side, Franklin had to settle for fifth, more than a second behind gold medalist Emily Seebohm.
Looking back now, it's much easier to see the potential for the duo that ended up coming through for the Americans in Rio. On the women's side, there was Kathleen Baker, who broke 1:00 for only the second time in her career to make her first World Championship final. Baker ended up getting eighth in that race.
For the men, the future was Ryan Murphy, who had already won consecutive NCAA titles in both the 100 and 200-yard backstroke, and when it came time for the mixed 400 medley relay, the coaching staff opted to put in Murphy over Grevers or David Plummer, who had missed the 100 back final.
Murphy promptly popped off a 52.18 leadoff split, faster than Larkin's winning time earlier in the meet in the 100 back—even if it would not count as an official time since it came on a mixed relay.
Murphy struggled to regain that form for the rest of the meet, but the potential was there. When he returned to Cal for his junior season, Murphy met with Cal head coach Dave Durden to figure out a plan for proving that one relay leadoff was not a flash in the pan and to find the consistent excellence that could win an Olympic gold medal.
"Both he and I got to a good point after that summer of coming up with a very detailed process for him to follow," Durden said. "There's a lot of comfort for him grinding through this process."
Murphy proceeded to roll through the collegiate season—smashing American records in both backstroke races at the NCAA championships despite an insistence that long course had been the focus all year—and then Olympic Trials, where he captured wins in both distances.
Murphy took the highs and the lows of his experiences in Kazan and used them to propel himself to the next level. For Baker, the process was not nearly so linear.
After Worlds, Baker moved cross-country to begin her college career, joining Murphy at Cal. But this Cal Bear did not get off to as rousing a start in her NCAA debut—she finished second in the 200 IM at the championships in Atlanta in March, but she missed the championship finals in her signature backstroke events.
Baker returned home to train with SwimMAC coach David Marsh in the lead-up to Olympic Trials. Marsh realized that Baker, dealing with Crohn's Disease that she would make public in July, needed more recovery—he built more rest into her practice schedule—and greater specialization.
Marsh convinced Baker to put all her eggs in one basket—the 100 back. At Trials, she would not even compete in the 200 IM or 200 back—the event in which she first qualified for a senior national team in 2014.
Baker broke out of her slump in prompt fashion with when she posted a lifetime-best time of 59.39 to qualify second for the final at Olympic Trials behind Olivia Smoliga. And then, in a heat with Franklin and Natalie Coughlin—who had combined for those three previous U.S. titles—swimming in the outside lanes, the two newcomers delivered.
Smoliga won in 59.02, ahead of Baker's 59.29, and the world quickly realized that the duo would be among the most energetic of the entire American delegation headed to Rio.
Things weren't perfect for Baker at training camp—Marsh admitted that she had some setbacks with injury and illness during the month the U.S. team trained together—but everything came together in Rio, when Baker led the way through both prelims and semifinals with identical times of 58.87.
In the final, Baker finished three tenths behind gold medalist Katinka Hosszu, but a silver was more than satisfying for someone who came into the meet with few expectations of winning an individual medal.
And after the battle with Crohn's and the struggles in her first year of college, the moment was even sweeter.
"Knowing something could be taken away from you definitely makes you appreciate it more," Baker said. "I'm loving every single minute of this, having the meet of my life at a perfect time."
Just two races later, Baker realized she would get to share one of the greatest moments of her life with one teammate she considers a role model and a sister when Katie Meili won bronze in the women's 100 breast.
"It's really nice to see that whole journey we've been on the past three years come together tonight," Meili said. "She's the toughest and most resilient person I've ever met. For her to win that medal, I can't think of anyone more deserving."
And then there was Murphy, who did indeed extend the U.S. win streak in the men's 100 back to six straight Olympiads. For Murphy, the moment was extra significant because of those not here that he can share it with.
After winning his gold medal and clocking the second-fastest time ever with a 51.97, Murphy admitted that before the meet, he heard from other key players in the long U.S. win streak in the event, including Lenny Krayzelburg, Aaron Peirsol and even Matt Grevers, who Murphy beat out to earn a spot on the team at U.S. Trials.
"Those guys that have won in the past, those are my idols," Murphy said. "I grew up watching them. To hear their words of encouragement coming into this meet, that meant a great deal to me. That gave me a great deal of confidence, that they were thinking of me, saying that they believe in me to do great things."
The paths that Baker and Murphy took to the podium in the 100 back seem wildly divergent, but these two Cal Bears each had a plan that was executed to a T. They had expectations to live up to, and they did so. For each, the moment meant something special because of the other players involved.
Baker and Murphy may not be the flashiest of names, but on the biggest of stages at the Olympic Games, both flourished. Thousands of fans sitting in the arena and millions more watching at home on television all tuned in to see the unique stories of the Olympic Games, and it's pretty cool when they turn out quite like that.
Click here to view full results from day three finals.