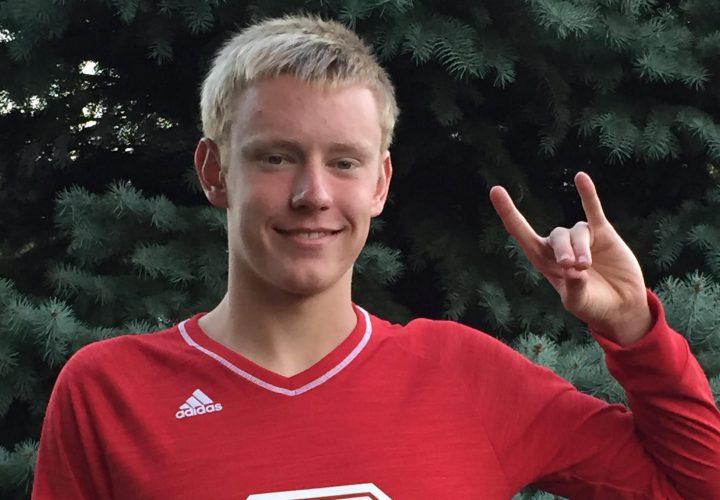 Photo Courtesy: Eric Knowles
Agon is the proud sponsor of all high school coverage (recruiting, results, state championships, etc.) on SwimmingWorld.com. For more information about Agon, visit their website AgonSwim.com.
Eric Knowles has joined a growing North Carolina State Class of 2021. Knowles, who is from Beavercreek, Ohio and swims for the Dayton Raiders will be a help to the Wolfpack.
The high school senior said,
"I'm excited to announce that I will be joining the Wolfpack next season! The intensity and closeness of the team along with the academic opportunities make it a great all around fit. Go Pack!!"
Knowles had a great long course season, highlighted by the Junior National title in the 400 IM in early August. He was also seventh in the 1500 and eighth in the 200 IM at that meet.
Knowles' best times (Yards/Meters):
400 IM 3:51.91/ 4:23.05
500 Free 4:25.55/ 3:56.82
200 IM 1:50.38/ 2:05.84
100 Breast 56.92/ 1:08.61
1650 16:58.46/ 15:48.84
While his best 1650 time and most recent swim comes from 2014, his long course best converts to a 15:25.11, a minute and a half faster than he has ever been in short course.
Knowles is also a USA Swimming Scholastic All-American. Swimming for his high school, Xenia Christian, at the Division 2 Ohio High School State Championships, Knowles won the 200 IM (1:50.38) and the 500 freestyle (4:31.26).
When Knowles dives into the ACC Championships, he'll be in a position to score for the reigning champion Wolfpack. His converted mile would have finished 20th last season. NC State had four swimmers score in that event. Anton Ispen led the way. He will overlap in Raleigh with Knowles for a year. Knowles' 400 IM best time would have put him in the B final.
To report a college commitment email HS@swimmingworld.com.