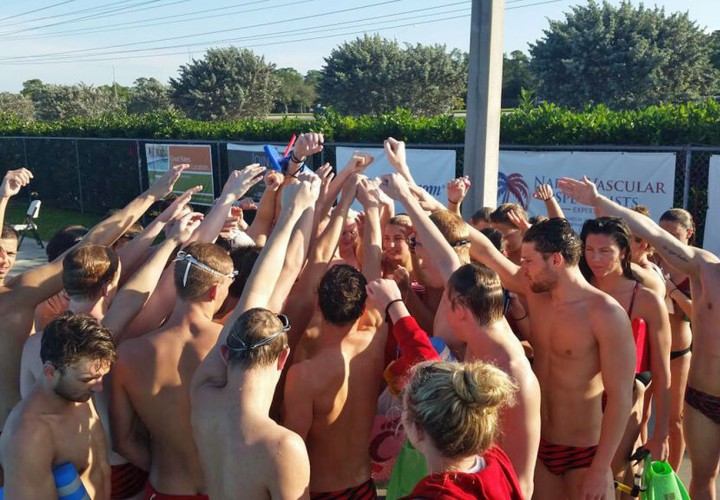 Photo Courtesy: Mandy DiSalle
Agon is the proud sponsor of all high school coverage (recruiting, results, state championships, etc.) on SwimmingWorld.com. For more information about Agon, visit their website AgonSwim.com.
To report a college commitment, email HS@swimmingworld.com. Join Swimming World's Watch List
NEW COMMITS: The University of Cincinnati has added two more verbal commitments, this time from John Acevedo and Michael Balcerak. They join Dalton Lillibridge on the men's side while the women's class of 2022 includes Kenzie Arens, Camryn Streid, Ashley Mennenga and Olivia Schmelzer.
John Acevedo
Acevedo hails from Waukesha, Wisconsin and swims for Waukesha Express Swim Team.
He wrote of his decision,
"Beyond excited to announce my verbal commitment to UC! On my visit I saw a hard-working team of coaches and swimmers heading in the right direction. Seeing this and all the other great things the university had to offer, I know it was the right choice. Go Bearcats!"
In the freestyle events, he gets better with distance. His best times are:
1650 Free 15:26.63
1000 Free 9:16.33
500 Free 4:27.90
200 Free 1:40.31
At last year's American Athletic Conference Championship Acevedo would have finished sixth in the mile with his best time. Cincinnati freshmen Din Selmanovic (15:06.16) and Tyler Jones (15:19.32) finished third and fourth. They'll overlap with Acevedo for two years, giving him a great distance training group.
Michael Balcerak
Balcerak is from Arlington Heights, Illinois. He is a NISCA All-American at Saint Viator High School and trains with Alligator Aquatics. He was the 2017 Illinois High School 100 freestyle state champion.
He wrote,
"I chose Cincinnati because I saw a well developed program and I wanted to add to the fire! Go Bearcats!!"
Balcerak provides a nice balance to Acevedo's distance prowess, excelling more at the shorter freestyles. His best times include:
200 Free 1:38.37
100 Free 44.91
50 Free 21.12
200 Fly 1:49.57
100 Fly 49.02
Balcerak would have finished sixth in the 100 free at last year's Conference meet. Remaining in the Bearcats' sprint group next fall will be Alex Fortman (45.08) and John Mataxas (44.60).