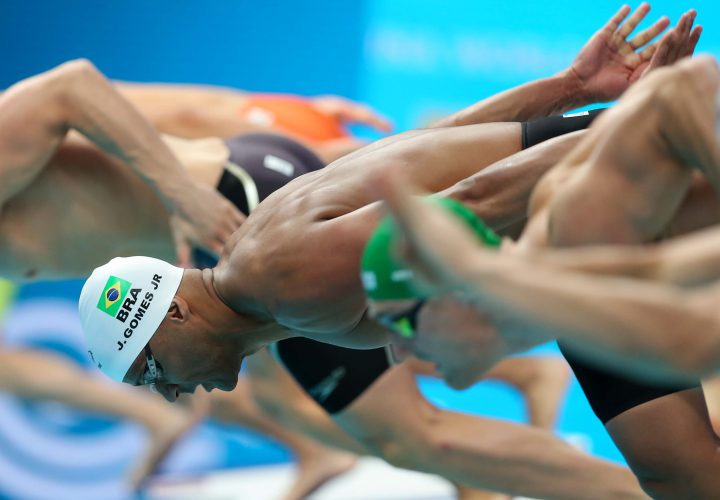 Brazil's National Championships, the 2018 Brazil Trophy, continued tonight in Rio de Janeiro, Brazil. The meet serves as the country's qualifier for the 2018 Pan Pacific Championships, the 2018 South American Swimming Championships, 2018 Summer Youth Olympics. The third night of finals at the 2018 Brazil Trophy included the men's and women's 100 freestyles, 200 butterfly, 50 breaststroke, and the 50 backstroke.
Larissa Oliveira led the way in the women's 100 free, winning in 54.53. Oliveira was the only swimmer under 55 seconds in the final, with Manuella Lyrio closest to her with a 55.19. In the men's 100 free Gabriel Santos won as the only man under 48 seconds, taking the race in 47.98. Pedro Spajari was just behind in second with a 48.01, while Marco Ferreira was in third with a 48.46 and Marcelo Chierighini was fourth in 48.48.  
Giovanna Diamante won the women's 200 fly in 2:12.07, while Leonardo de Deus won the men's event in 1:55.05. Vini Lanza, who was the 100 fly and 200 IM champion earlier in the meet, was only fifth in this event (1:58.10) after taking the race out fast to have the lead at the 50.
Jhennifer Conceicao won the women's 50 breast over Ruta Meilutyte (30.75) who had won the 100 breast earlier in the meet. Joao Gomes followed up on his win the 100 breast from earlier in the meet with another win in the 50 breast (26.85), just out-touching Felipe Lima (26.87).
In the final event final of the day, Kira Touissant won the 50 back (28.11), while Guilherme Guido won the men's 50 (25.00). Notably, Cesar Cielo chose to forgo the 100 free for the 50 back during this session, finishing in fifth with a 25.60. You can see the top three finishers from the third day of the 2018 Brazil Trophy below:
Women's 100 Freestyle
Larissa Oliveira – 54.53

Manuella Lyrio – 55.19

Daynara de Paula – 55.44
Men's 100 Freestyle
Gabriel Santos – 47.98

Pedro Spajari – 48.01

Marco Ferreira – 48.46
Women's 200 Butterfly
Giovanna Diamante – 2:12.07

Virginia Martin – 2:13.05

Nathalia Almeida – 2:15.33
Men's 200 Butterfly
Leonardo de Deus – 1:55.05

Luiz Melo – 1:55.92

Kaue Carvalho – 1:56.76
Women's 50 Breaststroke
Jhennifer Concericao – 30.64

Ruta Meilutyte – 30.75

Renata Sander – 31.10
Men's 50 Breaststroke
Joao Gomes – 26.85

Felipe Lima – 26.87

Felipe Silva – 27.04
Women's 50 Backstroke
Kira Touissant – 28.11

Andrea Berrino – 28.26

Fernanda Goeij – 28.92
Men's 50 Breaststroke
Guilherme Guido – 25.00

Gabriel Fantoni – 25.14

Guilherme Basseto – 25.24