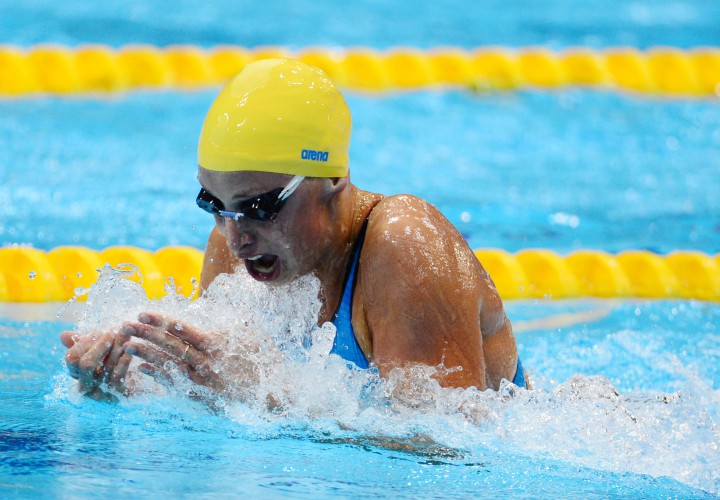 Photo Courtesy: Kyle Terada-USA TODAY Sports
Coverage of the 2015 FINA World Championships is sponsored by Wylas Timing. Visit our coverage page for more.
Sweden's Jennie Johansson moved up in the ranks in the women's 50-meter breaststroke finishing first with a time of 30.05. Johansson's time moved her up to second in the world rankings for 2015. Going into finals Johansson was ranked fourth but was able to bypass the competition to earn another medal for Sweden.
Jamaica's Alia Atkinson turned in a 30.11 for second in the event, and a move up to third in the world rankings. Atkinson had slipped to sixth in the semi-finals but that only seemed to encourage her as she flew past her time of 30.78 posted in the semis.
Russia's Yuliya Efimova finished only .02 seconds behind Atkinson with a quick 30.13 for the bronze medal, a best time for Efimova for 2015. Finishing .01 seconds behind her was Ruta Meilutyte of Lithuania who touched in 30.14. Meilutyte had dominated the event throughout prelims and the semi-finals, being the only swimmer under the 30-second mark, however she slipped back to fourth for finals.
Jessica Hardy of the USA also slipped some in the event finishing fifth overall with a time of 30.20. While Hardy managed to shave .05 seconds off her semi-finals time of 30.25, it was not enough to keep her in the top three.
Ran Suo of China took sixth in the event with a time of 30.74, a best time for 2015 for her.
Israel's Hrafnhildur Luthersdottir touched with a 31.12 to claim seventh overall in the event, while Mariia Liver of the Ukraine fell to eighth and a final time of 31.14.