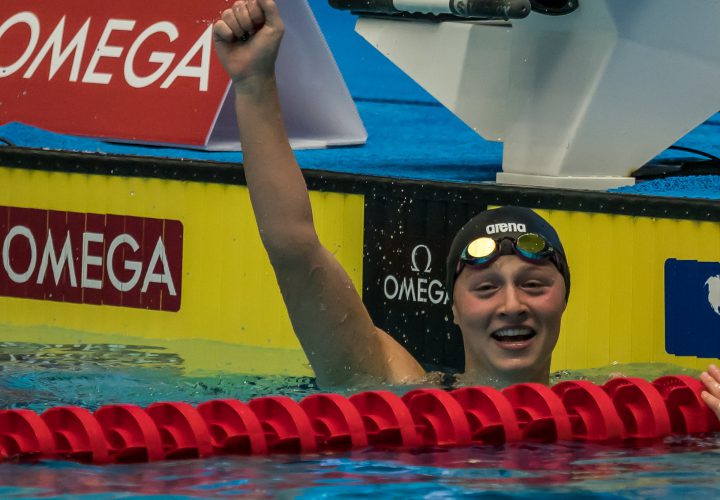 Photo Courtesy: Peter H. Bick
By Guerby Ruuska, Swimming World Intern.
Muncie, Indiana is known as the home of the Ball State Cardinals. But just next door, in the little town of Yorktown, Indiana, lives a high school junior, who is making some noise of her own. Her name is Emily Weiss.
"My parents always tell me that when I was younger I loved playing in the water," Weiss said. "I've been involved with swimming since the age of 7 when my parents placed me in swim lessons – Swim America. Soon after lessons, I began competitive swimming through Yorktown Swim Club then moved to Cardinal when I was 12."
While most high schoolers are worrying about finals, getting their driver's license and high school dances, Weiss finds little time to act like a "normal" high schooler. She has Olympic dreams, and working towards them while balancing school work is no easy task.
"I always allow myself to have time outside of swimming to get my work done," Weiss commented on her schooling. "Along with telling my teachers ahead of time whether I will be missing their class."
Indiana is known for spitting out national level breaststrokers on the women's side, with the likes of superstar Lilly King and 2017 World Championship silver medalist in the 200 breaststroke, Bethany Galat. Now Weiss steps up to continue the legacy.
The junior just finished competing at the Speedo Winter Jr. Championships East where the term "fast" seems like an understatement when it came to her performance. Weiss came in second to Nashville Aquatic Club's rising star Alex Walsh, but still clocked a blistering 58.77, which bettered her state record-setting performance from the 2017 Indiana state championship meet.
"I definitely am keeping my eyes ahead on this national record," Weiss said. "I'm extremely happy with the 58.77 that I went at Juniors, unrested. Nothing's too far out of reach, I'm just working hard for the outcomes that I want."
The state record which Weiss broke was a strong 59.63 set by King. Weiss has been compared to King a lot since breaking her record but despite being compared to the Olympic champion, the junior tries to model herself after previous world record holder,
Rebecca Soni
.
"Rebecca Soni was just one of the first swimmers that I actually connected to and started following," Weiss commented. "She was very kind yet competitive when it came to her events. I still love watching the 2008 and 2012 200 breast events that she swam at the Olympics. And yes, I still get goosebumps."
But it's not about being the next King or Soni, it's about being the best version of Emily Weiss. Thee Yorktown junior has been motivated by many top-level swimmers from her own state, such as Amy Bilquist (Carmel, IN), who currently swims at Cal, Claire Adams (Carmel, IN), a sophomore at Texas, Chandler Bray (Avon, IN), a sophomore at Florida, and Hannah Kukurugya (Crown Point, IN), a freshman at Stanford.
Weiss is only a junior, so she could well have waited until 2018 to choose a college program, but she saw no reason to wait. Weiss committed to swim for Indiana University's Class of 2023.
"When I was looking at colleges at first I wanted to get as far away as possible from Indiana," Weiss stated. "My mind changed when I took my first visit to Indiana. It felt like home to me, and being only two hours away from my family was really nice. The coaching staff, along with the team itself, was very accommodating and welcoming."
The team led by the Ray Looze — the man who coached Cody Miller, Blake Pieroni and Lilly King to Olympic gold medals — but it wasn't just the Olympic success that drew Weiss in.
"This team is so very hardworking, that was something that I wanted to a part of. I quickly got to know the coaching staff and team over the course of three-ish months."
Weiss has her eyes on the ultimate goal of the Tokyo Games in 2020. But before the teen started to see Olympic rings in her future, she had to prove to herself that she had what it took to be at that level.
"I didn't discover that I had potential to be the best until I got my Olympic Trial cut. Before Olympic Trials, I was just an age grouper picking up state records and having fun with it," Weiss said. "I grabbed my cut at age 13 and didn't quite realize what I did. This past year has been an amazing and humbling journey. I'm trying to continue to put my head down and not get caught up in the big things."
But to become an Olympian, one needs to have drive; a drive which separates them from the rest. Weiss makes it clear that she was not born with this drive, but picked it up over time.
"I wouldn't say I was born with that mindset. Not until this past year did I get more serious about this sport," Weiss said. "Thinking about the food I eat, the weights I lift, along with the amount of sleep I get each night. I get into a routine. Not only do I want to be serious but I still want to be playful with my teammates, continuing to have fun."
Getting to the Olympic level entails finding new and different ways to get slightly better each day; working on improving all aspects of your life in pursuit of the ultimate goal. Weiss understands this more the ever these days.
"The Olympics over the years have grown incredibly fast. Nothing but competitive drive and heart will be required," Weiss said. "I feel like you almost have to be perfect in the way you train and maintain your strokes. It's going to be the ultimate pain fest preparing myself for what's to come in 2020, and I'm excited about it."
All commentaries are the opinion of the author and do not necessarily reflect the views of Swimming World Magazine nor its staff.
---
Associated Links
---