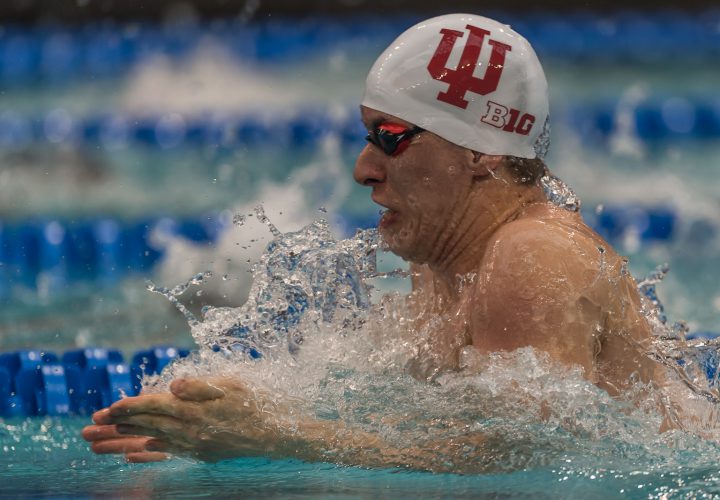 Photo Courtesy: Peter H. Bick
Editorial content for the 2018 NCAA DI Championship coverage is sponsored by TritonWear. Visit TritonWear.com for more information on our sponsor. For full Swimming World coverage, check event coverage page.
Indiana's Ian Finnerty continued the barrier-breaking streak of this week's championships by becoming the first man to dip under 50-seconds in the 100 breast in an insanely-quick time of 49.69, to win the A final.
Finnerty was out well ahead of the rest of the field at the halfway mark with a split of 23.26, which was nearly identical to the 23.27 he posted during the prelims of the 200 medley relay. Finnerty showed no signs of remorse as he charged home over the last 50 yards in 26.43, solidifying himself as the only man to come back in under 27-seconds.
In second was California's Connor Hoppe in a 51.16 while USC's Carsten Vissering touched third in 51.28.
Tennessee's Peter Stevens swam a 52.11 to win the B final.
Event 11  Men 100 Yard Breaststroke
=========================================================================
         NCAA: N 50.03  02/17/2018Caeleb Dressel, Florida
     American: A 50.03  02/17/2018Caeleb Dressel, Florida
   U. S. Open: O 50.03  02/17/2018Caeleb Dressel, Florida
 Championship: C 50.04  03/28/2014Kevin Cordes, Arizona
         Pool: P 50.47  03/23/2018Ian Finnerty, Indiana-IN
    Name           Year School            Prelims     Finals NISCA Points
=========================================================================
                            === A - Final ===                            
 
  1 Ian Finnerty     JR Indiana             50.47      49.69N  200   20  
    r:+0.65  23.26        49.69 (26.43)
  2 Connor Hoppe     SR California          51.78      51.16   188   17  
    r:+0.70  23.79        51.16 (27.37)
  3 Carsten Visseri  JR USC                 51.87      51.28   187   16  
    r:+0.70  24.00        51.28 (27.28)
  4 Alex Evdokimov   SR Cornell             51.88      51.32   186   15  
    r:+0.64  24.10        51.32 (27.22)
  5 Levi Brock       SR Indiana             52.24      51.38   186   14  
    r:+0.72  23.89        51.38 (27.49)
  6 Conner McHugh    SR Minnesota           52.05      51.48   185   13  
    r:+0.76  24.11        51.48 (27.37)
  7 Evgenii Somov    FR Louisville          52.28      52.07   180   12  
    r:+0.71  24.57        52.07 (27.50)
  8 Mauro Castillo   SR Texas A&M           52.14      52.11   180   11  
    r:+0.64  24.52        52.11 (27.59)