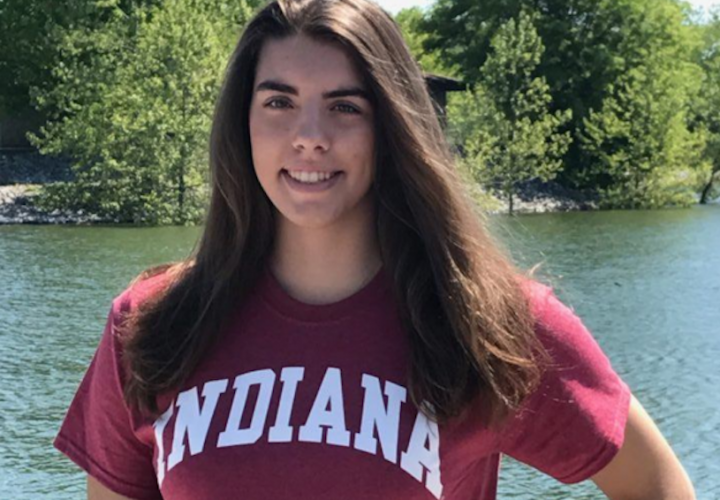 Photo Courtesy: Ileah Doctor
Agon is the proud sponsor of all high school coverage (recruiting, results, state championships, etc.) on SwimmingWorld.com. For more information about Agon, visit their website?AgonSwim.com.?National Records for High School Are Pending Application Verification.? Click Here to Learn More
Agon is the proud sponsor of all high school coverage (recruiting, results, state championships, etc.) on SwimmingWorld.com. For more information about Agon, visit their website AgonSwim.com.
East Grand Rapids ran away with the Michigan Girls Division 2 state championship, scoring 396 points to Dexter High School's 241 points.
East Grand Rapids started to build a lead with the very first event, the 200 medley relay. Sophia Layton, Ileah Doctor, Ashley Ward, and Marie Lehman combined for a 1:44.76.
Doctor, who is committed to swim for the Indiana Hoosiers, won the 50 freestyle in a Division record time of 22.19. Doctor had already lowered the record in prelims with a 22.33. She was just .15 shy of Kara Lynn Joyce's All Class record. Midland's Claire Newman was second in 23.21 ahead of a pair of Seaholm seniors: Haley Dolan (23.57) and Linnea Anderson (23.77). Doctor took a second division record in the 100 freestyle with her winning 49.59. Newman was runner up again, with a 50.83.
Dexter's Annette Schultz won the 200 freestyle by over three seconds with a 1:49.30. Her freshman teammate Charlotte Schultz was third (1:53.47) and Rochester Adams' Lisa Lohner (1:52.99) finished second.
Royal Oak's Julia Boswell earned 200 IM gold in 2:04.86 while Lehman was second in 2:05.98.
FH Central senior Colleen Kramer won one meter diving with 424.25 points. Her teammate and classmate Felicity Buchmaier defended her 100 fly title with a 54.80 and her 100 back title with a 55.90. Anderson was second (55.72) in the 100 fly while Byron Center's Michaela Briggs was runner up (56.57) in the 100 back.
Three swimmers were faster than last year's winning time from Julia Boswell of Royal Oak HS. Lohner was first to the wall in 4:59.78 to pick up gold. Boswell finished second with a 5:00.41. Dexter senior Sarah Zofchak (5:02.84) finished third.
Doctor played a role in another Division record as Lehman, Eve Doctor, Laura Levine, and Ileah Doctor touched in 1:33.40 for 200 freestyle relay gold. Lehman clocked a 1:04.50 to win the 100 breaststroke, just quicker than FH Central's Jessica Schellenboom in 1:04.53.
Dexter's Sarah Zofchak, Grace Kacmarek, Amelia Kinnard, and Annette Schultz defended the team's 400 freestyle relay title in 3:31.09.
Full results available here.