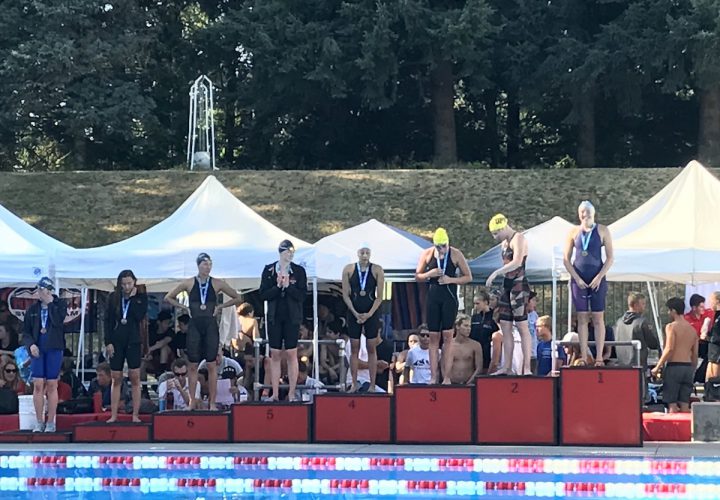 Photo Courtesy: Scottsdale Swimming Twitter
On night two at the Speedo Sectionals meet at Mount Hood Scottsdale's Hayley Hill started the meet out with an exciting finish when she touched out the University of Denver's Zarena Brown 2:02.96 to 2:03.05 to win the 200 freestyle. Hill's teammate Ashley Strouse was just behind with her 2:03.38.
The men's 200 freestyle also featured a tight finish. Multnomah Athletic Club's Van Mathias posted a 1:54.43. Thomas Roark of Boise Y led a tight trio. Roark went a 1:55.13, just faster than RallySport Aquatic Club's Nathan Rock (1:55.17) and Scottsdale's Terry Yang (1:55.18).
Bailey Andison of the University of Denver beat Swim Utah's Jordan Anderson by a second for the 400 IM as the two touched in 4:51.44 and 4:52.45. Phoenix Swim Club's Mia Rankin was third (4:57.21).
Jeffco Hurricanes' Michael Zarian held off Flying Fish Arizona Swim Team's Isaac Stump 4:24.04 to 4:25.17 to win the men's 400 IM. With a 4:28.42 Keegan Foulke finished third.
The Dolphins Portland Swimming's Jordan Ashmore, Kaitlyn Dobler, Lindsay Swail, and Alayna Connor touched in 1:56.39 to win the 200 medley relay. They were followed by the University of Denver's Sydney Silver, Bailey Andison, Heidi Bradley, and Lauren Moden (1:57.66).
Rob Mead, Kevin Keil, Mathias, and Nathaniel McFaul combined for a 1:45.53 to win the mens' 200 medley relay.
Results available on Meet Mobile: 2017 Speedo Sectionals at Gresham.